Usually when you run out of space system partition It is required (even required) to check installed programs to identify and remove useless applications or applications that we can spare at least a limited period of time (in the latter case it is recommended to keep executablesBecause nobody knows when or why we need them). But what do we do when we bear to give up any of your installed applications in Program Files? The solution also comes in the form of applications, namely JunctionMaster.
As you probably already know, partitions NTFS have a feature named NTFS Junction Point which allows creating links between folders located on different partitions. This feature is on by default in Windows 7Stand at the base Windows Libraries. We take the example folder My MusicWith the location C: Usersuser_nameMy Music. From here you can create links to various other folders (click on the link below Music library, In the upper left corner), located on the same partition or on different partitions, their content can then be accessed directly from My Music. Available for Documents, Pictures si Videos.
JunctionMaster is a free utility (Considered rather a shell extension Windows) that allows users to create links between folders located on different partitions. Difference between JunctionMaster si NTFS junction points It is that Master enables Junction Full moving a folder from one partition to anotherAt the same time creating a virtual copy its on the partition that is moved and connects real folder virtual folder so that it can still be accessed from the old location without affecting files or programs installed in Windows.
How does JunctionMaster?
download and install the application, then open Windows Explorer and navigate to the location of the folder that you want to move
right click on that folder and select THEN MOVE and LINK folder to ...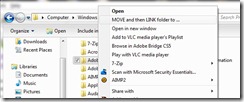 select the new location for the folder that you want to move, then click on the Move and Link or OK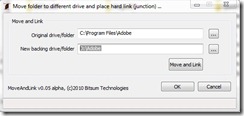 after clicking on OK, JunctionMaster original folder will move all the content in the newly created folder, but it will still be accessible from the old location
if you want to loosen ties / links between folders, use all JunctionMaster to scan system, select and click on the respective links Remove selected links (backing files Will Remain in-tact).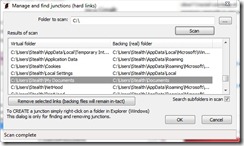 Although it can be used oricairui relocation folder on hdd, JunctionMaster application is primarily a welcome help for those who want to move to a different partition of the system folders installation of certain applicationsTo free up space for other programs or for other installation better functioning of the system.
Note: When creating links between folders note that the files you delete from one of the folders are deleted and a folder other (it is very important not to confuse the contents of folders linked by JunctionMaster with duplicate files - given that they will be listed twice - to not lose important data. for applications, they will not function properly or will not work at all).
Compatible with all versions of Windows 7 on 32-bit and 64-bit.
STEALTH SETTINGS - HOW TO A FOLDER TO ANOTHER relocated DRIVE IN WINDOWS WITHOUT CHANGING ACCESS PATH 7
How to relocate a folder on another partition in Windows 7 without changing the access path