In Windows different types of files are associated with certain programs installed default with the system or retrofitted by the user (for example, when you install Microsoft Office, files .doc associated with MS Word). In addition, the user can associate any type of file - right-clicking it and selecting Open With - With a particular program, but it does not have the option to association reset to default value (Ie can not return to association created by Windows between a file type and a program unless the user knows what is program associated with that file was originally or if calling from a Registry hack).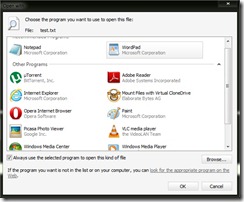 Unassociate File Types is a Free portable application, which allows Windows user 7 sa reset File Associations the default value.
What really makes this application is to disassociated type of file it is associated with program currently, thus returning to association made the Windows default. All you have to do is to select a file type displayed list of applications, then go to click the button Remove file association (This will be deleted association made by the user via Open With selected file type).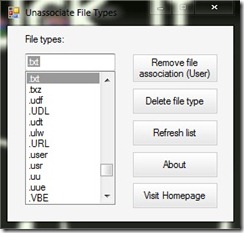 Delete file type Delete all associations between files and programs, both performed by the user, and default assignments.
Note: Compatible with Windows Vista. To run correctly, the application must be run with administrator privileges (Run as administrator).
Credit@winhelponline.com
How to reset Windows File Associations in 7