Every time you install a application in WindowsIt add or change some registry in system. To uninstall applications but things are not so simple, because usually they forget to take with them at least some add registry during installation or sometimes modify or delete registry necessary for the correct functioning of other applications, can even disable the system services. And most system errors They are based services and disabled corrupt registry resulting from the installation and uninstall applications that you use in Windows.
RefreshPC is a freeware utility (Free) for Windows allowing users to services and registry system reset to their initial values (Default), thus solving any problem caused by Registry errors or servicii. In addition, RefreshPC can clean prefetch files si folders with temporary files Windows.
Interface It is simple and very easy to use and first use RefresPC immediately after installation, we are asked if we want to create a restore point (Advisable is to give click on Yes, Given that we will not have this possibility to later use the utility). To reset Windows registry and services to baseline We just need to click on dam Refresh My Windows Settings.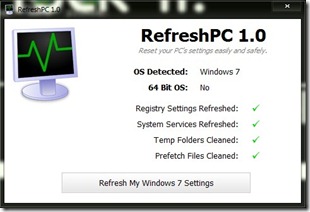 After using RefreshPC is required restart utility that changes made to occur.
PC Refresh reduce the number of errors displayed in the Event Viewer, repair corrupt service configurations system that can cause problems with your PC, including Booting cumbersome, slow systemCleans temporary folders and reset registry system to their default values.
Note: The application is compatible with all versions of Windows XP, Windows Vista and Windows 7, 32-bit and 64-bit.
How to reset Windows Registry and Services to default values