Probably has happened many times to install a game pe computer supplied but by the end of the day (in the best case of the week ...) and sent to you walk for some reason the common premise: PC configuration incompatible with that game (jerky picture and sound, errors, lag and other "miracles"). If you do not have the funds somewhat purchase a substantial New PC endowments "alien" (aka Alienware) - Generally 4 times more expensive than one with standard configuration (By that I mean at least RAM 2GBProcessor over 1,80Ghz - Preferably dual core if 2 duo - A video card somewhat present - macit would be physical if not otherwise…), but it eats your fingers to keep trying different games that struggle system, we recommend using a emulator or a program the "properties" similar.
GameGain is one such program that helps you increase your computer's performance supplied to make compatible with various games which - normally - they claim a specific configurations to be run or to run properly. It utility modification settings computer (registry and file system) To enhance the memory, animation (graphic properties), refresh rates and increase tolerance CPU at very high speeds. Also adjusts settings based on computer specifications and identify (and solve) any performance issues thereof.
How to use GameGain?
After you have installed the program, select OS, processor PC and speed (in variant trial nu can change speed settingsAnd only option Fast is accessible). Then click on Go.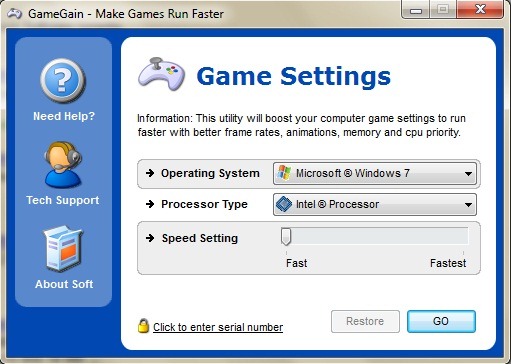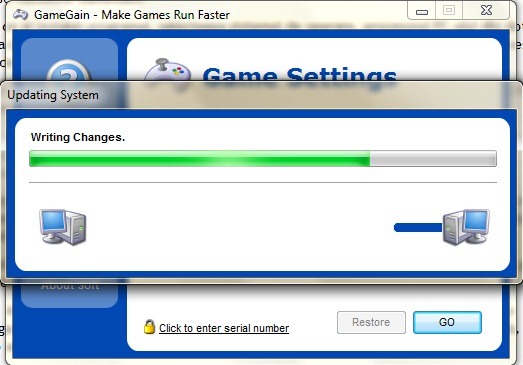 During system analysis changes that occur print its a friendly attitude towards the games before they swallowed knotted. :)
When the analysis is done, you have to make a restart the pc for the changes to take effect. Then you can play those games that you produced before "indigestion" due sacadarii has no synchronization or lag.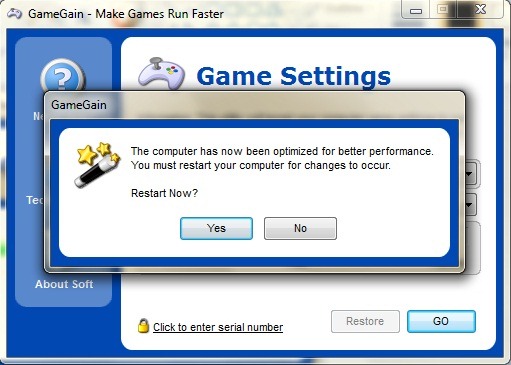 If the consequences of these changes the system will not only bodes well (hypothetically speaking) you can return to default settings, Ie before use GameGain by pressing Restore.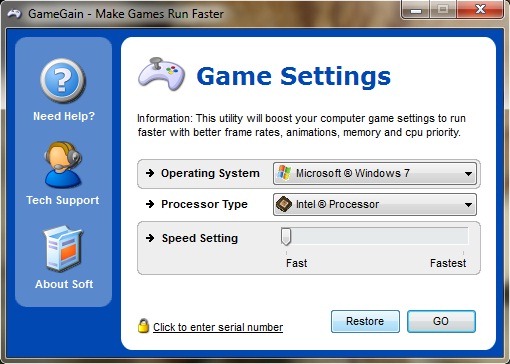 GameGain is a freeware product, Its price is 9.99 $But can be used free 30 days as a trial. And yet, you know how you would cost a hardware upgrade? : P
Download GameGain (free trial).
credit @PGWARE.com
Please note: This program was tested (trial version) on Windows 7 Ultimate 32 bits (compatible with XP and Vista) With a little over configuration status pathetic: DualCore Intel Celeron processor, 1.86 MHz 2GB RAM, video adapter 256MB (share). Contrary to my skepticism, it gave results (specifically that it is about NFSHP2 si Call of Duty 2). :)
LA. GameGain does not solve the problem of incompatibility between the new generation games and weak configurations (old)!