By default (default) when we connect to Internet - Whether it is a cable or one wireless - IP addresses are distributed dynamic by ISP (Ie, the connection is made through a Dynamic IP). Use dynamic IPs is practiced by most Internet providers because it requires no configuration, network connection being made in a automatic. Every time a connection is restarted, the router ISP assigns one PC IP address available (Not already assigned to another computer on the network), most likely had different IP before restart.
When the Internet connection is via the same IP, no matter how many connection resets the computer or place, that is called IP Static IP. Not recommended quitting dynamic IPs in favor of the state than in case you have by contract (or other long-established means) of one or more IP addresses that you know for sure that the ISP to which you are subscribed to incorporate them the group dynamic IPs (router will not know when or if a computer will use a specific IP address and it is possible to assign the same address to another computer in the network, leading to unable to connect to the Internet both computers).
How to set a static IP in Windows 7?
open control Panel and go to Network and Internet > Network and Sharing Center
in the left panel, click on Change adapter settings and identify which network adapter through which you are connected to the Internet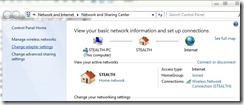 right click on default network adapter and select Properties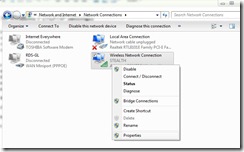 displayed list select 4 Internet Protocol Version (TCP / IPv4) and click (again) on Properties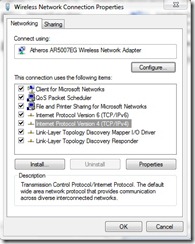 Select Use the Following IP Address (will automatically select Options Use the Following DNS Server Addresses), Then type the static IP address in the right field IP address
to identify Subnet mask, Default gateway si DNS (If you do not already know), open a Command Prompt, Type the command ipconfig / all and give Enter (In this case is 255.255.255.0 subnet mask, and default gateway 192.168.2.1)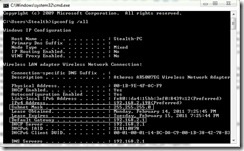 if your Internet connection is made through a wireless router, You will find that address Coincides with the Default Gateway DNS Server (Router acts as proxy between the computer and the actual DNS) to surf the Internet you need DNS server addresses realAnd to obtain these addresses will have to log on web interface of the router and check status thereof.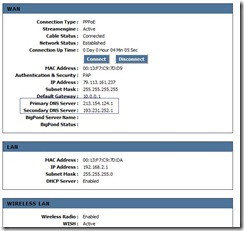 where Internet connection is done by cable or modem, Real DNS server addresses are displayed in Command Prompt
Enter addresses DNS Server in the fields of law Preferred DNS server si Alternate DNS server then click on OK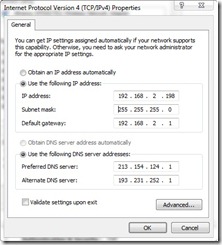 Note: If you can not connect to the Internet after you set a static IP obtained by contract, immediately notify your ISP problem If you set static IP without it you contract with your ISP and have problems with Internet connection (most likely there is another computer on the Internet with the same IP network), select Obtain an IP address automatically and Obtain DNS server address automatically then click on OK to resolve connection issues.
How to setup a static IP in Windows 7 (TCP / IP Settings)