fTPCPC (Files Transfer Protocol) Is an essential service for a site administrator, a blogger, a designer or a user need to upload or download files on a server distance.
Most people who use fTPSite, using different clients connecting (FTP Client), FlashFXP, SmartFTP, fileZilla, etc.
With the launch of operating system Windows Vista, microsoft introduced a new option. Direct connection to FTPUsing "Add a Network Location". This new feature allows users to connect to FTP to transfer files, set chmod, etc..
How to set up an FTP account in Windows Vista & Windows 7.
1. Go to "computer"Right-click anywhere in the free space and click on Add a Network Location.
2. In panel "Welcome to the Add Network Location Wizard", Click the"Next".
3. Double-click "Choose a custom network location"Or select and click on" Next ".
4. Enter your FTP serverului.ex. ftp://ftp.adresasite.com, Butin press "Next".
5. In this step are two options. Login as user anonymous (for servers fTP accepting Anonymous login) And login with username and password.
Those who use user and password FTP, you should uncheck the box next to "Log On Anonymously" and introduce user FTP access. Next. :)

6. If you do not want to use the default name for the new network (ftp.numesite.com), You can choose any name you want. Next.

7. Congratulations! You managed to set access to an FTP account on Windows Vista - Windows 7.
8. Once you click "Finish", you can connect to FTP. This will open a "login box" in which you will have to enter the password for the FTP account that you want to connect.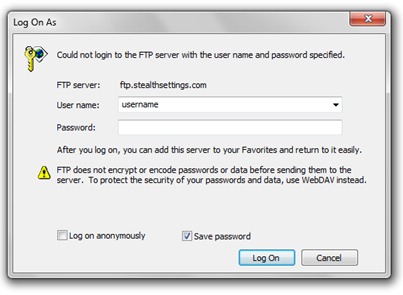 Now you can access files and folders whenever your site "Computer" FTP account will appear as a folder under "Network Location".
Double-click and ... increase in job :) Now you can forget about any FTP client. You have access to folders on the server, like any other folder on your hard drive
How to connect to FTP using the Network Location [Setup Windows & Windows Vista 7]