If you are among Windows 7 who prefer a system custom look in exchange for the original, so you are probably already familiar with customization functions from under Appearence and Personalization (control Panel) And numerous applications which provides some extra options regarding transparency, color (Windows Aero color) wallpapers or homework used for personalization. Among these popular applications are those that can automatically change wallpaper sites (Background or wallpaper) from time to time (set by users) or according to certain actions / events.
AeroWallpaperChanger is one such application, freeBut besides that automatically change background image between predetermined time period, has further option to change color depending on the color aero theme prevalent wallpapers (Ie, if a wallpaper the predominant color theme is blue, the color of Aero - taskbar, toolbar, menu bar and so on - will be all blue, if the next wallpaper predominant color is green, and the color will modify the aircraft in green).
How to set Aero color to match the predominance of wallpapers using AeroWallpaperChanger
open application (after installation, it will run in background. Click on the icon in systray to open the application), then select wallpapers that you want as your wallpaper;
You can optionally choose to modify them aleatoryAt a predetermined time or when When you start certain applications, Also have the option of automatically stop the slideshowWhen your left with only sitemului battery (available for laptops);
click on the tab Other Settings and check the option Change Aero Color (With this setting enabled, aero color will change depending on the predominant color of wallpapers)
to set AeroWallpaperChanger run on Windows startup, check Start with Windows
to change the background image using a keyboard shortcut, check Change wallpaper on key globalThen select the shortcut key (Ctrl, Other, Win or Shift, Or any key of your choice)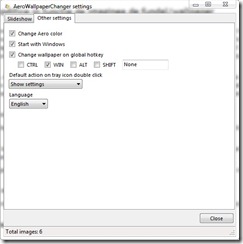 Note: Compatible with all versions of Windows 7, 32-bit and 64-bit.
Credit: hb860 @ deviantart
How to set the color theme Aero to change depending on the wallpaper / wallpaper