Facebook recently introduced a new method account recovery if you happen to forget password from it or it will be changed by people who have succeeded in one way or another, to identify (which is why the use of strong passwordsDifficult to identify).

New method Recovery Facebook account, named Trusted ContactsAllows the selection of several friends / contacts you trust (minimum 3, Maximum 5), Which will receive a code Every where you will find ever in a position to have to make recover account. To access back to your Facebook account when using Trusted ContactsWill need to enter 3 separate security codes (Including those received from friends selected by you). In this way you risk not remember the answer to a Security Question and will not have to worry if you do not have access to e-mail or phone number used as an input for password recovery Facebook account.
How to configure Trusted Contacts in Facebook?
log in in Facebook and open account Security Settings (Account Settings> Security)
Among the options displayed, identify Trusted Contacts and click it, then click the link Choose Trusted Contacts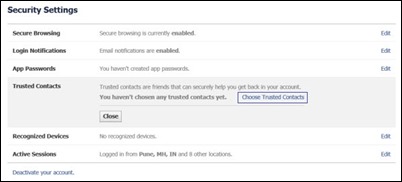 in the displayed dialog (What Are Trusted Contacts?) Click again Choose Trusted Contacts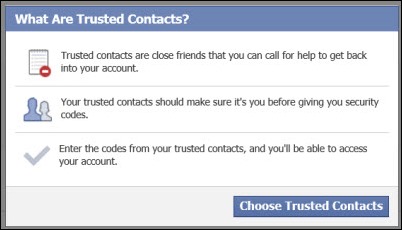 select between 3 5 and friends trust between contacts Facebook (Make sure they are people you can contact us anytime you need), then click on Confirm (It may have to re account password to be confirmed)

After choosing trusted friend, they will be displayed Trusted Contacts in Security Settings. You will also receive a confirmation e-mail.
After Configuring Trusted ContactsYou can use this option to make Recover Facebook Account in case you ever need.
STEALTH SETTINGS - How to setup Trusted Contacts in Facebook
How to set Trusted Contacts in Facebook