One of updates Windows 8That Microsoft made it known even before conference Windows Build within which presented preview of the new operating systemThis interface for File management (File Management), Exactly how they work orders Copy, paste si Replace.
In Windows 7 and earlier operating systems for each process Copy / Paste appear as one different dialogueAnd in cases where more of these commands simultaneously monitor fills us all so much dialogues copy.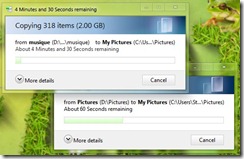 In Windows 8 all processes copy / move files will be displayed in a single dialogue, more "lines", thus avoiding screen clutter.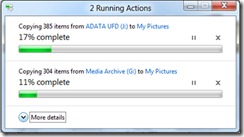 In addition, there is the possibility of temporary stop (break) Of some of the processes to high transfer speed for others (giving priority: D).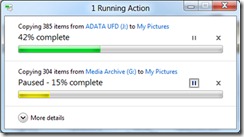 Even the way Show details will differ in the Copy / Paste dialogs from Windows 8, this being in the form of graphic which allows the user to view which is file transfer speed and file transfer rateAnd how much is left to be transferred from them.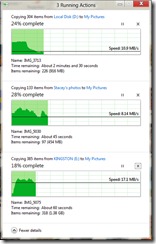 Regarding conflict dialog which occurs when the names of two files are identical, and it was modified from the one that we used in Windows Vista si Windows 7.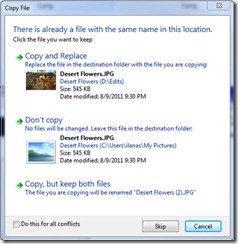 Instead of being asked if we want to replace files each other, if we want to keep and the new ones (ie those who have given Easter folder) and old (existing in folder) or if we want to cancel copying for certain files (or even for all), in Windows 8 will show all files that conflict to a copy, both old and new (displayed on two different columns) and details about them, such as folders to or from their size or dates on which they were created / modifiedAnd we will just have to tick the files you want to keep (if you want to keep an old and a new file with the same name, the new file will be added, as now, a total before termination ).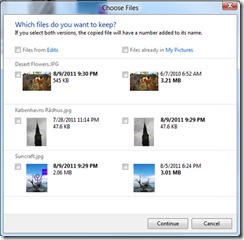 Also, files can be opened in conflict posing double-click on thumbnails displayed their dialogue.
Instead of conclusion, we can not fail to notice that until the launch of the operating system Windows 8 is still long enough feedback and suggestions, so we can not know for sure if it will show the file management RTM edition or if it will be more or less altered at the request of users (or according to the ideas of the Microsoft).
STEALTH SETTINGS - The new File Management UI (Copy, Paste and Replace) in Windows 8
What will the new file management interface (Copy, Paste and Replace) look like in Windows 8