Suppose most of your time in front of a computer you spend at work or at school. It was also assumed that during working hours or the school you are not allowed to access certain web pages (Or rather the pages you visit most often: D) and you may not install / use some applications (usually IM applicationsVarious games and games or media players). Now, suppose the contrary, the boss / manager / supervisor / teacher (or simply a individual who does not see his own business) is without a job close to your office, or worse, without any reason, wants to check the computer. What can you do in such situations?
Do not Panic! it is application ideal for such situations, and helping the users to hide the one click applications compromising (Or installed without the bosses or managers) and all with a single click (usually the same: D) to clean browsing history (browsing history) of Internet Explorer. In addition Do not Panic! is portable, That can be installed on a USB Stick or in any dark corner of HDD (And launched from there whenever needed).
How does the Do not Panic!
After installing the application, run it and click ToolsThen select Options menu displayed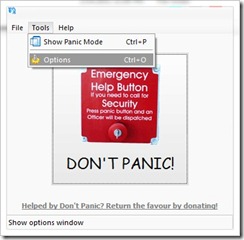 in tab General You can set the transparency of the application, you can change shortcut for panic button or you can set whether or not the application will run at system startup or if you run into Panic Mode.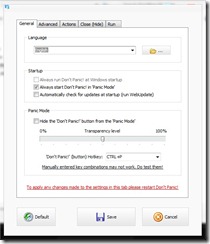 in tab Advanced You can set whether the application can be started with or without Administrator rights
in tab Actions What action will you set the application when clicked panic button (Or is typed shortcut for it), namely to close, to hide or minimize application in systray. You can also select to delete Recent Files, browsing history and addresses entered in Internet Explorer + temporary files and files of Recycle Bin.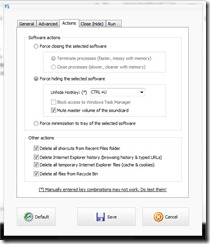 in tab Close (Hide) You can select which applications you want to close or to hide when necessary.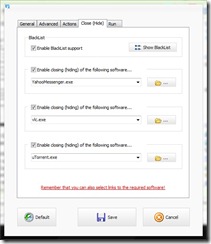 If you want to hide / close more than 3 applications, then check Enable BlackList support, Click on Show BlackListThen add those applications to the list. To make sure you have not skipped any, can fill some Keyword and when will be the case all applications that contain those words in the name are hidden or closed.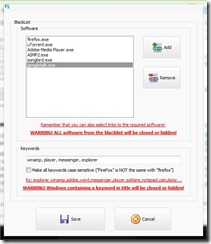 in tab Run posibilitataea you to set up to 3 applications want to run when you press the panic button, and you can also select files to be opened to them.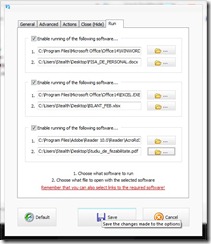 Using Do not Panic! make sure you'll never be caught "stepping club" at work, at school and what not (: D) home. Success!
Note: Compatible with all versions of Windows XP, Windows Vista and Windows 7.
STEALTH SETTINGS - Remove Browser History and Hide or Close "forbidden" Apps with a single click
Clean Browser History and hide or close applications "forbidden" with a single click