for users Windows 7 who wish to customize the operating system depending on preferences and / or needs and do not want to be complicit with several Customize applications just look how many each or manual changes of files and registry systemWe have very good news: The Windows Club recently launched the complex Windows customization application 7, namely Ultimate Windows Customizer.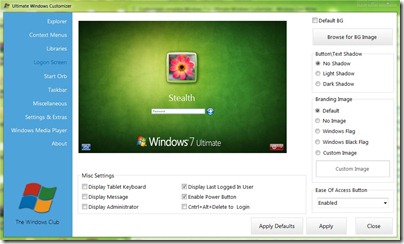 Ultimate Windows Customizer is a freeware application with which users can modify the total Windows look 7 (Button Start, Windows ExplorerSoftware, screen Logon, taskbarThe, ThumbnailAPIs, Windows Media PlayerSite and so on).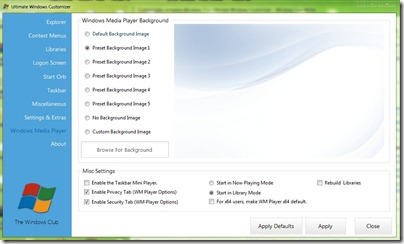 Although there are plenty of other free applications for customization, UWC it is first integrated application which allows you to customize almost everything can customize a Windows.
Tweak's for customization included in UWC are divided into sections (Explorer, context Menu, Logon Screen, Libraries, Miscellaneous and so on), each offering various tweaks related to the function that takes its name.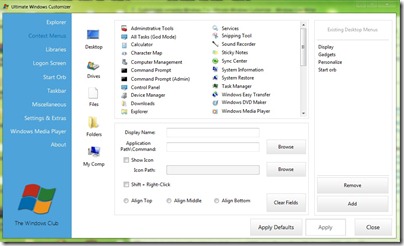 Attention! Before use Ultimate Windows Customizer wealthy, it is recommended to restore Windows default settings (Will not be made any manual customization or by any other applications like).
Download Ultimate Windows Customizer
Ultimate Windows Customizer Features:
application easy to use, With simple interface understood by all users Windows.
no hack or tweak not be done manually (not required Manual changes of registry or system files)
Compatibility confirmed between different types of customizations
plague 70 the major sites featureWith hundreds of subfeature sites included
creates backups of system files and the registry settings when interacting with them
create restore point sites before any customization
Post log with errors appeared to them to be understood and resolved quickly
to uninstall easily from control Panel
Update Feature included to inform users when new versions are released application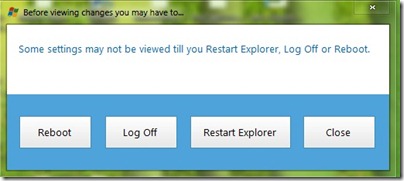 Beside Feature Sites listed above, Ultimate Windows Customizer includes tool sites RegOwnIt (Take ownership of a registry) Replace It (Replacing fast file system) Restart Explorer, screenshot, System File Checker, System Restore Creator.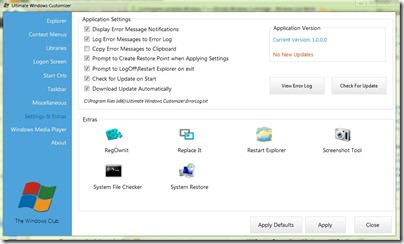 Note: Application compatible with Windows 7 (32 and 64 bit). UWC requires minimal 28 MB free hard disk space to not cause problems during customization.
Credit: @ thewindowsclub.com
STEALTH SETTINGS - Windows 7 complete customization with Ultimate Windows Customizer
Full customization Ultimate Windows Customizer with Windows 7