If you're among users Windows 7 who are not satisfied with design original OSMost likely you have not limited to testing themes provided by microsoft but you tried and Customisation Advanced somewhat modifying icons, Start Orb site or taskbarSite. Although certain features of Windows customization is very simple (such as changing icons of folders, files or applications), for others, such as the Start Orb and Icons Library is necasara using third-party applications to make possible customization.
7 Library Icon Changer is one such application that allows users to customize Windows 7 quickly and hassle free icons for Documents, Music, Pictures si Videos in Libraries (He has no available option Change Icon in Properties). Also, the application can modify and icons for libraries (Libraries) added by users in Windows 7 Library.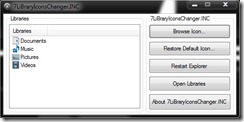 How functioineaza 7 Library Icon Changer
After downloading the application, open it with administrator privileges (right-click> Run as administrator) And select icons on the left panel you want to edit (atetntie, they can not be modified simultaneously)
then click on Browse and navigate to the folder where you stored the new icons. Select these icons then click on Open.
restart explorer.exe
To return to the original Windows icons 7 Libraries, Library Icon Changer 7 open and click Restore Default.
Download Library Icon Changer 7.
Note: The application is compatible with Windows 7 32-bit and 64-bit.
Credit: frank1n @deviantART
Customize Windows icons with 7 7 Library Library Icon Changer