Windows 7 offers its users a wide variety of themes for customizing appearance OS. And what can not be changed with themes provided by MicrosoftCan be customized through various open source or freeware applications.
If you user Windows 7 and you like to change the appearance of your operating system regularly, definitely get used to customize si display Windows  Login. Therefore we decided to present you one application (portable) freeware allowing rapid change Windows NEVER Logon Screen - Whenever you want - with a simple right-click: Easy Login Screen Changer.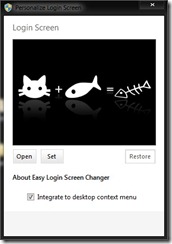 Easy Login Screen Changer allows the use of any wallpaper or any photos stored in the computer as Logon screen. Whenever you change login screen background even OS interface, More precisely right-click menu (Context Menu).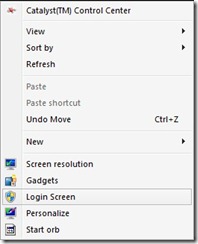 In addition, the application does not require installationSo not edit registry and leaves no traces in the system.
Note: Compatible with all versions Windows 7, 32 or 64 bits.
Credit: yvidhiatama @ deviantart
STEALTH SETTINGS - Easy customize Windows 7 Logon Screen from Contex Menu
Customize Windows 7 Logon Screen from the Context Menu