Although the version of Windows 8, in Windows 8.1 The Start Screen received a number of customization options Further, as for instance 4 dimensions for tile sites or the ability to set background for desktop and that background for Start ScreenPlus higher number of colors si backgrounds defaultIt still remained inflexible and limited in terms interface customization.
For those who believe that The Start Screen require some more options and settings to improve User experience, We recommend to test Start Screen Unlimited.
Start Screen Unlimited is a application customization for the Start Screen of the systems Windows 8 and Windows 8.1 (available in Lite version, free, And a Deluxe versionPriced at ~15$), Who added that a number of options and shortcuts that the user will find (most likely) quite useful.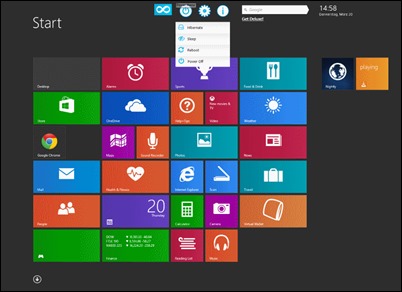 Version Lite the application add the following -items in The Start Screen from Windows 8/8.1:
un Power menu with options shut down (Power off) restart (Reboot) hibernate si Sleep
a menu of Links tool which contains direct shortcut by control Panel or the option to closes the application Start Screen Unlimited
un Google Search Box which allows searching in Google search engine directly from the Start Screen
watch si digital calendar (Displays time and date in the Start Screen)
button help / info which allows check for updates si feedback
un link the page where it can be bought deluxe editionWhich implicitly contains more customization options than lite version)

The application does not alter system files, So it can be used without any risk. It also consume very few resources not hinder the functioning of the system. It is recommended, however, before it is installed, create a restore point just in case.
Download Start Screen Unlimited.
Note: Compatible with all running devices Windows 8 or Windows 8.1 (including tablets), except Surface RT.
STEALTH SETTINGS - Customize Windows 8.1 Start Screen with Start Screen Unlimited
Customize Windows 8.1 Start Screen with Start Screen Unlimited