System Folder Customizer is a freeware application allowing users Windows 7 sa customize system folders (Windows Explorer, Libraries, My Computer, Desktop) By the addition of shortcuts by various Links tool, Settings and native applications sale Windowscommunity.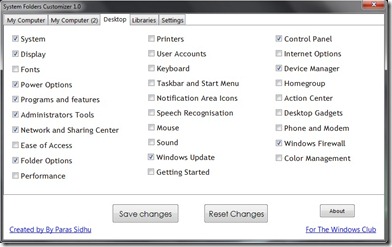 Cu System Folder Customizer you can add shortcuts to administrative Tools, folder Options, Power Options, Program and Features, Taskbar and Start Menu, User Accounts, Device Manager, Performance, Action Center, Windows Update and other utilities Windows directly Desktop, in Libraries (Windows Explorer) or in My Computer for a Faster access them.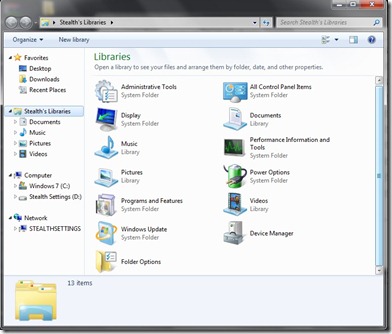 The application help users Windows 7 save valuable time when you need one of these sites or applications of the tool system. Also, you have the opportunity to off My Computer tab, Settings.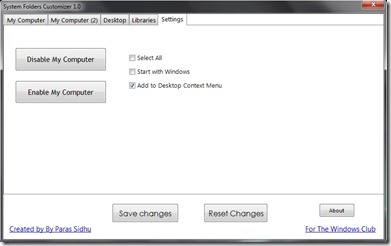 System Folder Customizer is portable application (No installation required) which means it can be run from anywhere, even from external devices such as USB-sticks. In addition, any settings made with System Folder Customizer can be reset (Ie the system returns to the settings before using the application).
Download in English System Folder Customizer.
Note: Compatible with all versions of Windows 7, on 32 and 64 bits.
STEALTH SETTINGS - Customize System Folders in Windows 7 (System Folder Customizer)
Customize system folders in Windows 7 (System Folder Customizer)