From fined intampla ori ca, in timp ce pe internet navigam anumite linkuri / Pagini sa ceara one browser to be specific deschide pentru pentru sau to incarca / rula anumite plug-inuri. Pentru ca in anumite cazuri Poate deveni iritant faptul alt ca trebuie browser deschidem decat sa cel pe care il folosim of obicei if Apoi sa dam Copy / Paste the link to vizualiza pentru page (paginile sau) "pretentioase" rapid aceasta problem rezolva putem cu ajutorul unei Firefox Extensii, namely Browser View Plus.
Browser View Plus allows Firefox sa utilizatorilor divrese deschida link-uri/pagini in alte browsere Doar cu sau one Simplu click right-click (prin intermediul context Menu).
Cum functioneaza Browser View Plus?
dupa ce ati downloadat if instalat add-Onul duceti-go options acesteia (Tools> Add-ons> Extensions) If the 5 Setati pana pe care browsere doriti puteti you deschide din sa Firefox (Internet Explorer, Chrome, Safari, Opera if an alt browser, the alegere)
fiecare dreptul Dintre in the cot calea browsere introduceti acestea (of exemplu, pentru Internet Explorer aceasta this C: Program FilesInternet ExplorerIEXPLORE.EXE)
to save setarile dati pentru click pe OK.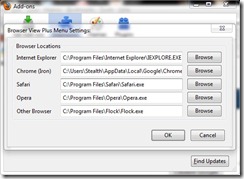 Dupa ce ati configurat Browser View Plus dati click-dreapta pe Firefox toolbar and select Customize butoanele Adauga pentru a ajutorul cu alte carora puteti deschide in paginile browsere vizualizate in Firefox dand one click Singur pe acestea (fiecare are buton corespunzator browser).
From asemenea, puteti deschide intalnit orice link in Firefox click-dreapta dand pe acesta if selectand Open Link WithThen selecting one of the browsers listed.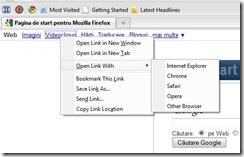 Success!
Download Browser View Plus (Firefox Add-on).
STEALTH SETTINGS - ACCESS FROM OTHER browsers FIREFOX BROWSER WITH VIEW PLUS
Opens multiple browsers from Firefox with Browser View Plus Add-on