Among all malware existing Internet, Rootkits have rightly earned a place among the most feared, and that's because rootkits are used to hide dangerous software, Such as viruses, trojanii, Spyware si backdoors, antivirus installed in the system. More specifically, combined with a rootkit virus produces what Internet users call a full stealth virus (or Undercover) And most often can not be detected by antivirus ordinary.
Bitdefender Antivirus has just launched a new anti-malware toolIt is specifically designed to help users Windows to avoid the Rootkits, namely BitDefender Rootkit Remover. Utility is portable (No installation required) and can be launched without the need booting in Safe Mode and, more importantly, can identifies si remove from system all known rootkits (And database is updated every time they are discovered November rootkits).
BitDefender Rootkit Remover HELPS remove Mebroot, all TDL Families (TDL / SST / Pihar) Mayachok, Mybios, Plate, XPaj, Whistler, Alipop, CPD, Fengd, Fips, Guntior, MBR Locker, Mebratix, Niwa, Ponreb, Ramna, Stoned , Yoddos, Yurn, Zegost and cleans Also Infections with Necurs. But the tool and When Will be updated as new rootkits is found.
How does Bitdefender Rootkit Remover?
After you launch the application, click on the Start Scan. Scanning will take only a few seconds, and whether or not the utility detects rootkits in the system, you will see a message stating that the removal of rootkits was completed successfully.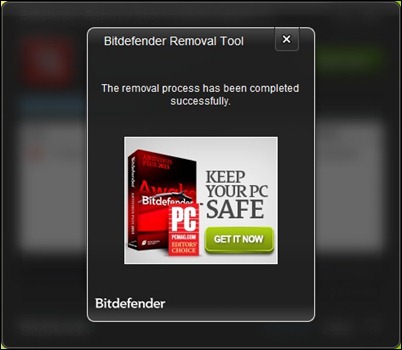 And that's pretty much it. BitDefender Rootkit Remover is a tool not very complicated, which does its job well for which it was created, and offers it to users Windows a helping hand in regards remove malware from system. After using BitDefender Rootkit Remover is recommended and performing a full system scan (At least occasionally) with antivirus installed to identify and remove virus attempts who were hiding behind rootkits.
Download BitDefender Rootkit Remover.
Note: Tool compatible with all versions of Windows, 32 and 64-bits.
STEALTH SETTINGS - Download Bitdefender Rootkit Remover for Windows
Download Bitdefender Rootkit Remover for Windows