Although Microsoft SkyDrive It is available for several years and has a fairly high number of users, many users Windows either do not know what is SkyDriveOr they were not interested in what they can offer this service. But with the official announcement about the launch Google Drive, microsoft apparently he decided to do SkyDrive site more popular among Windows users for a limited time they can Free upgrade online storage space of 7 GB la 25 GBAnd access to it can be done far more quickly through the new SkyDrive client for Windows.
One of the major benefits of using SkyDrive for Windows client is able to make file transfer (maximum 2 GB / file) Between computer and SkyDrive account through a simple drag-and-drop. In addition, all files on SkyDrive are now accessed offlineAnd they can be managed directly from Windows Explorer.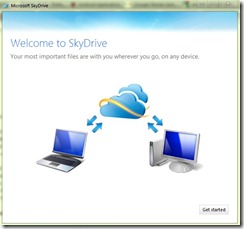 How does SkyDrive client for Windows?
After installing the client, users must log first using user and password for Windows Live account to access SkyDrive folder through Windows Explorer.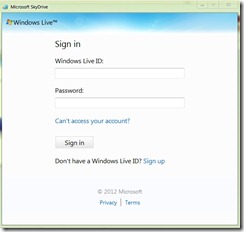 default location SkyDrive folder is C: Usersnume-userSkyDriveBut it can be modified according to user preferences with a simple click on the button Change.
There is also the option to access files on your computer from any other device (Computer, mobile phone or tablet) connected to the same account SkyDrive.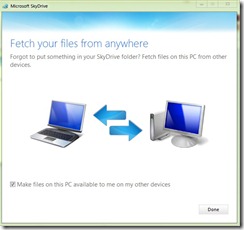 For a faster access to SkyDrive folder and the important functions of its Windows client after installation and will place a shortcut systray in the system.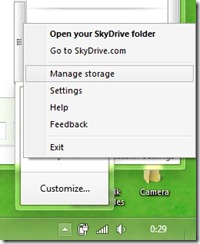 Download SkyDrive client for Windows
As I said at the beginning, Microsoft SkyDrive offers users a "promotion", namely able to upgrade free, And for limited periodThe space of SkyDrive storage site at 7 GB la 25 GB. To do this upgrade, users need to click right on SkyDrive icon in systray (or access account from Web interface), Then to click on Manage Storage.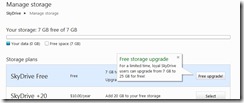 Then, after they click the button Free Upgrade in plan Free SkyDriveUsers will be informed that Storage space has been increased the 25 GB.

If until now you were among the Windows who had no interaction with SkyDrive service provided by Microsoft, or did not pay much attention to him, our recommendation is to not go ahead and analyze benefits (the possibility to store files online, available both on PC and on mobile supplied and synchronized permanently therewith; the possibility to share-ui or maintain files stored private; the possibility to access files from your computer to other devices via SkyDrive) and take advantage of the limited offer to increase the storage space.
STEALTH SETTINGS - Download SkyDrive client for Windows and upgrade to 25 GB free storage
Download the new SkyDrive client for Windows and upgrade your account to 25 GB free storage space