With launch of the final version a Windows 8.1, Microsoft launched a 90 days trial version (Three months) Windows 8.1 Entertaking, Available free all users.
Trial version of Windows 8.1 RTM Entertaking not require license code to be installed, and after the trial period expires, background desktopwill turn black in the lower right corner of the desktopacquis will be shown a watermark will indicate that the system is not genuine and computer will reboot each 60 minutes.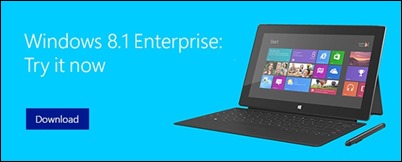 If you're wondering which is difference between Windows 8.1 Entertaken if Windows 8.1 ProEdition Enterprize comes bundled with a few Feature Links In addition, such as:
Windows To Go Creator - gives users the opportunity to create a fully functional copy of Windows 8.1 on a bootable USB drive
Start Screen Control - Allows users to control the layout (design) Start Screen's
Direct Access - Allows access resources / type of files on the network directly without having to open a VPN
App Locker - Allows you to restrict running certain applications or files in system
Assigned Access - Allows setting as default shell any application so that other users can not only use application that
Virtual Desktop Infrastructure (VDI) - Enables users to run applications / graphics 3D, use touch devices and USB peripherals in any type of network (LAN or WAN) for different scenarios VDI
Windows EnterSlide-Loading socket - allows users to launch and run applications in sids-by-side mode on PCs and tablets in the same domain and running Windows 8.1 Entertaking
Version 90 days trial a Windows 8.1 RTM Entertaking will be used (Download, install and activated) till March October 31 2014.
Download Windows 8.1 EnterTrial version socket (90-days).
Note: The system requirements for this version of Windows are similar to those for Windows 8.1.
STEALTH SETTINGS - Download and Install for free Windows 8.1 Enter90-day trial
Download and install for free Windows 8.1 Enteroutlet (90 days trial)