Most users Windows accustomed to and automatically update operating systems via Windows Update. But in order to do this, computers should be connected to the Internet. Also, there are users who want to shorten the download si installation a updates for WindowsEspecially if it is a Resettlement System.
Portable Update is a free application which allows users to search, download and install updates for Windows and, in addition, may identify lack of updates (Which were not installed in the system), so they still only be selected for installation (helpful if you give updates error when trying to install them Windows Update).
At first launch the program, it will download some files of microsoftRequired to operate, and will be displayed Portable Interface Update. Depending on tabs available information are: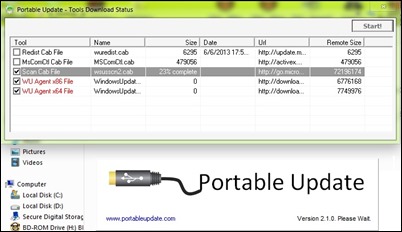 History - View History updatesBoth of those installed as well as those who gave error
Search - Scans Microsoft server to identify updates not yet been installed on the computer
download - allow downloading updates missing (And not only) in the system
install - allow install downloaded updates program
Services - View services update used by the program
Settings - List information updates such as API version of these, the version and operating system architecture etc. before it.
Log - View all activities si operations performed by the program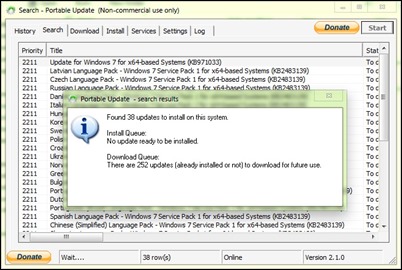 Updates are missing from the system automatically selected to download and install, but users can choose to select additional updates (especially if you want to download updates for them install on another computerWithout Internet connection). Downloaded updates are stored in directory cache program folder (which can be installed directly from the Cache folder, or can be moved along with the other system software).
Note: The application does not require installation and is compatible with Windows XP, Windows Vista, Windows and Windows 7 8.
STEALTH SETTINGS - Download and Install Windows updates with Portable Update
Download and install updates for Windows with Portable Update