Since its inception Windows 8It was criticized by most users because of Feature Links that have either been removed from the system (such as Aero Glass, Start Orb si Start Menu) Or were not implemented in the system (option boot directly into the Windows Desktop or option Shutdown from Power Menu) Or it is necessary to use third-party applications for off them (Charm bar, hot-corners etc.) or are a bit inflexible (The Start ScreenSomehow foisted on users and too few opportunities Customisation). Through the Windows 8.1 update, microsoft intends to solve some of the complaints of users (or reduce the criticism) and improve experience their Windows 8 (Details about the available feature in Windows 8.1 Preview find here).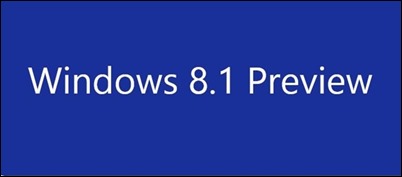 For those interested in testing Windows 8.1Today in the BUILD ConferenceMicrosoft released a Preview version thereof, which can be installed either upgrade from Windows StoreOr with installation ISO image, Available (starting on 27 June) the Microsoft website (So ​​that users Windows XP, Windows Vista si Windows 7 can test Windows 8.1 Preview).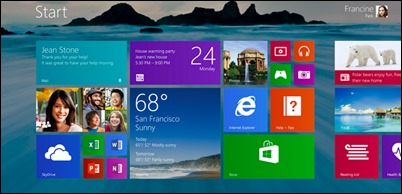 Users who choose to Windows install as an upgrade to Windows 8.1 8 Preview but must take into account several things before:
are required 4 GB minimum space the system partition for upgrade can be installed
even if you upgrade from version Windows 8.1 Preview la RTM possible, users will lose all applications installed in the system (Classical or modern) instead all data / personal files will be stored
Windows update can not be uninstalled 8.1 Preview (downgrade Windows 8 not possible, or at least not yet discovered how)
How do we upgrade from Windows to Windows 8 8.1 Preview?
because upgrade to Windows 8.1 Preview can be performed, users will first need to install a package updates requiredAvailable on the Microsoft website.

Download Update Pack (for upgrade to Windows 8.1 Preview).
Then restart your computer and click on Go to the Store message is displayed when Get Windows 8.1 Preview for free (The message will be displayed after system bootup imadiat).
Pe official page Download the Windows 8.1 Preview from Windows Store click on the button download. The update will be downloaded and then installed on your computer (this may take some time, so empower yourself with some patience), without requiring the use of a license code (product key).
If you want to install Windows 8.1 Preview the update from Windows Store, but wish to make a in dual-boot installation 8 Windows (or other OS) or clean reinstallationthen Download the ISO image from the Microsoft website.
Download Windows 8.1 Preview ISO.
After you download the image, create a Installation DVD or Bootable USB StickThen use the following license code system during installation:
NTTX3-RV7VB-T7X7F-WQYYY-9Y92F
Note: System requirements to install Windows 8.1 Preview are: minimum 1 GHz processor, RAM 1GB-bit and 32GB 2 64-bit RAM, hard disk space for minimum 16GB 32-bit and minimum space 20 64GB -bit and DirectX 9 with WDDM driver. 8.1 RTM version of Windows will be released in October this year.
STEALTH SETTINGS - Download & Install Windows 8.1 Preview
Download and install Windows 8.1 Preview