If you used to install and test various Custom ROMs for Android pe devices of equipment, most likely you already know that not all of these include Google Apps (Google Play, Maps, gmail, Google Music etc.), in which case you need to install the suite of applications separately (flash) By means of a recovery (E.g., ClockWorkMod). Although the flash-uire Google applications (also called GApps) On Android custom ROM is not very difficult, there are many different versions of these application packagesLife, including a Universal version, And custom versions created specifically for certain ROMs. And finding the right suite can give you headaches sometimes.
EasyGApps is a free application for Android that gathers together the various sources Google Apps package, Helping users to quickly identify and download versions compatible with ROMs used by them. Versions GApps listed on the application are the official / university, Banks gapps, Slim gapps si PA gapps (Paranoid Android ROM).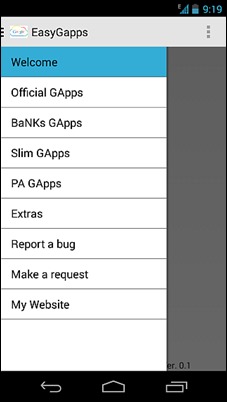 After the launch EasyGApps, Please tap on menu icon displayed in the upper left corner of the application to list versions of Google Apps available. Then select one of the packages to open official source where it can be downloaded.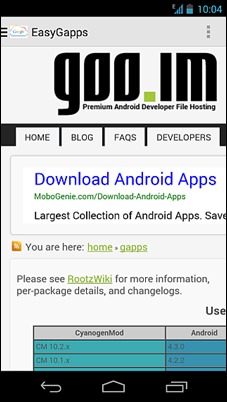 And after you download Gapps suite desired, install it in the system using a custom recovery (CWM or TWRP).
Credit @ XDA Developers
STEALTH SETTINGS - Download Packs for Android Apps different with EasyGApps
Download Google Apps suite for Android with different EasyGApps