Those who are missing the snow, I still have not really got to see it this year, and sometimes forget that the holidays knock on the door, and we recommend you customize Windowsul supplied with theme Special winter to bring a little of its magic even on desktopcomputers endowment. The topic of new users Windows 7 is called Winter WhiteAnd contains besides 6 wallpapers great winter, and a screen saver si themed sliders.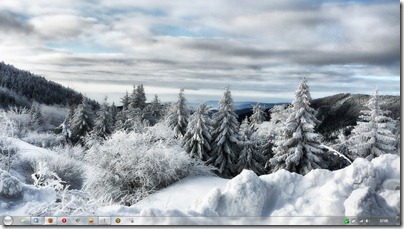 How to install White Winter Theme?
After which download theme, Unzip it and run the file Winter White.themepack. Then enter the folder Cursors and ScreensaversRight-click on INSTALL.inf and select install.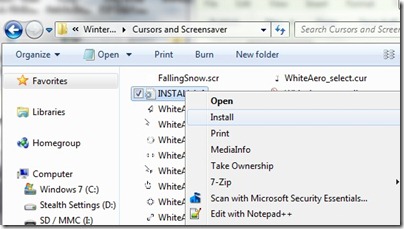 If the rate changes and screensaver will be non-existent, you will have to make manual:
right click on the screen and select Personalize. Then click on Screen saver in the bottom-right corner and select FallingSnow as a screensaver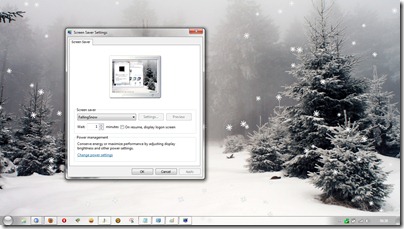 all in PersonalizationOn the left of the window, click on Change mouse pointersThen select White Aero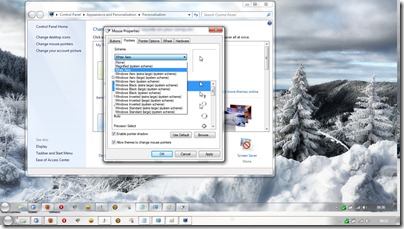 You can change the speed and shape of flake screensaver SettingsAnd to stop the snowflakes all have to go with the mouse over them (if you wish to stop and prefer to let them "snow" in the background while you work, avoid touching any flake with mouse site).
Note: This theme is compatible with operating systems only Windows 7.
Credit: Lee [Email protected]
STEALTH SETTINGS - Download Winter White Theme for Windows 7 (Including Screensaver, Wallpapers and Cursors)
Download Winter White Theme for Windows 7 (Screensaver, Wallpapers and Cursors included)