With the launch of operating system Windows Vista, AutoPlayHas acquired new capabilities.
If last year through November will tell you how you can get rid of dialog boxCPC AutoPlay's On Windows XPToday will show you how disable, active si customize actions "AutoPlay" on Windows Sight yes Windows 7.
First, AutoPlay is the. Have you noticed that when you enter a DVD Movies, for an Music CD or when attaching a Memory USB StickOpens a dialog box in which you are provided some action. Content of the CD, DVD, external hard disk is automatically scannedAnd in the AutoPlay dialog box will appear more options. Depending on the type of files on The external device.
The screenshot below shows the AutoPlay dialogue box that appeared to attach a USB Stick empty.
AutoPlay options in the above case, when the memory stick was empty: it stick open contentSite, to use space on the stick backup or ReadyBoost (Write speeds, read hdd's using the stick for cache. Velocity flash driveSite is higher than a HDD). I copied a picture of stick, Then I disconnected and I connected and the laptop. Notice in the screenshot below as a single file (. Jpg) on ​​the stick significantly change list of options of AutoPlay. Without opening the contents of memory, AutoPlay gives me the opportunity to import / copy or to View images using several Software image installed on my system.
By Select an option (Import Pictures and Videos using Windows, For example.) And selecting them the right "Always do this for pictures", set an automatic action to attach a memory stick, CD, microSD, etc. that are stored on external media images.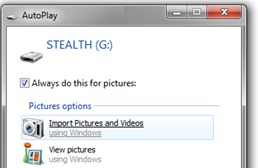 For our example, pictures si video files detected the switching stickSite will be automatically copied on hdd.
Scan picture & videos: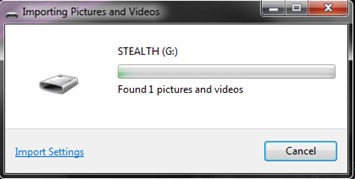 Tag photo (find it easier on hdd - search)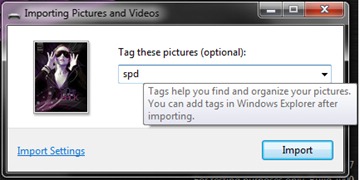 After clicking "Import"Picture will be automatically copied LibrariesPictures (Windows 7), in a folder whose name is given by date of importation si name tagthe chosen one.
To set more shares Automatic to detect Media Files from external devices, sa change or to disable AutoPlay site, go to the bar StartAnd in "Search programs and files"Write" autoplay "(without quotes) and press Enter.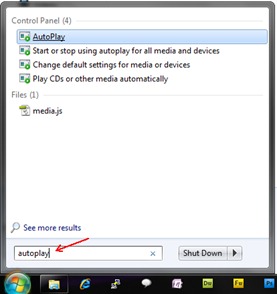 In the panel that opens, you can choose what to do when attaching a media file device, depending on the type of media device.
If you insert a music CD (for ex.), You can choose to automatically share, copy, or start them with software installed on your PC
Unchecking option "Use AutoPlay for all media and devices'Cause off all actions AutoPlay.
This tutorial was made on Windows 7, but it can also be helpful to users Windows Vista. The options are very similar.