Since the first "meeting" with AutoRunI found this function Windowscommunity as unnecessary. Although there are plenty of users who disagree with me, definitely so much I approve. That's because Autorun is not only irritating when you monitor blooms (ie every time an external drive connected to the PC - it's irrelevant hdd, usb stick or CD / DVD) Nay, in some cases, comes packed with surprises from which you choose a malicious splendid (especially when external drives borrowed).
For those that do not let Autorun wonderful cold (or were tired of changing keyboards, mouse, monitors ...: P) you can get rid of it using the following off method (Using registry editor):
1. open registry Editor (Run-> regedit->Enter)
2. go to the next key HKEY_CURRENT_USER \ Software \ Microsoft \Windows\
CurrentVersion \ Policies \Explorer (If it does not exist, create it)
3. in the right pane, create entry (DWORD) NoDriveTypeAutoRun and give them one of these values, if necessary or preferences: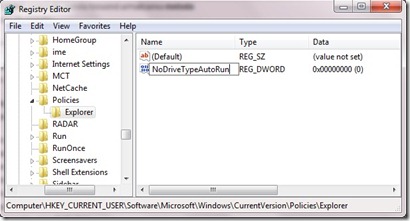 FF - To disable Autorun for any type of drive
20 - To disable AutoRun only CD / DVD
4 - to disable AutoRun for any type of removable drive, such as external hdds, usb sticks, mobile phones, etc.
8 - to disable AutoRun for any fixed drive (internal HDD)
10 - To disable AutoRun on network drives
40 - To disable AutoRun on all RAM disk
1 - To disable AutoRun on any drive unknown / unidentified
If you wish to disable AutoRun for several types of drives (but not all) have to calculate sum of deactivation thereof. For example, to disable Autorun for any network drives, CD / DVD and external drives, give input NoDriveTypeAutoRun the amount 34 (10 + + 20 4).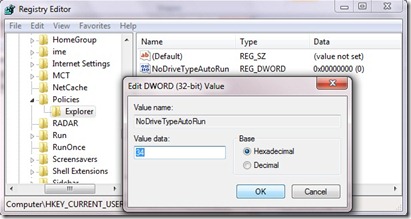 If at some point you will want to AutoRun reactivate (For reasons unexplained ...) is enough to delete entry NoDriveTypeAutoRun or to give it its one of the following default values:
Windows 2000: 95
Windows XP: 91
Windows 2003: Server 95
Windows Vista, 2008 and 7 Server: 91
Please note: Before any change of register, make a backup of them to make sure you have a functional system in case you are not familiar with the Registry Editor do not follow exactly the steps described above or ... just in case (of snowballed, not salt: P). If you wish to disable Autorun for all users system, it is enough to replace HKEY_CURRENT_USER in point 2 with HKEY_LOCAL_MACHINE. Good luck! ;)
Disable AutoRun in Windows OS [Registry Editor]