In Windowsincluding TaskbarCPC has a right-click menu (context Menu) Which can be accessed through certain System features or may be modified options but by Taskbarcommunity. If you do not want other computer users to be able to access either Task ManagerOr to make changes in Toolbars used your, er be a solution disable the right-click menu of Taskbaracquis.
How to disable the Context Menu Taskbaracquis?
To deactivate the right-click menu of TaskbarWe will call a small one Registry hack. Before performing this, it is recommended create a backup of the system registry (To avoid possible unpleasant consequences).
open registry Editor (type: Windows + R to open RunThen write regedit and click on OK)
navigate to key site HKEY_CURRENT_USER \ Software \ Microsoft \Windows\ CurrentVersion \ Policies
in the left panel, create a subkey named Explorer (Right-click on Policies and select New> Key)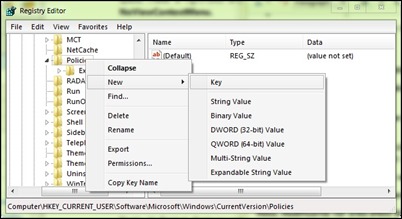 in the right pane, under Explorer, Create a crontab DWORD NoViewContextMenu, Which give it value 1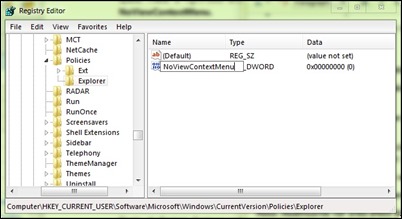 still under Explorer (And everything in the right pane), then create DWORD entry NoTrayContextMenu, Whom you all value 1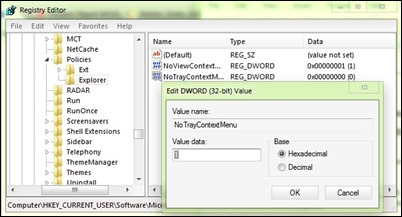 then close regedit and restart explorer.exe for changes to take effect.
And that's it. Right-click menu for Taskbar will not be displayed.
Note: Changes will only take effect for the right-click menu for vacancies on Taskbar, for the Start button and for the clock. Right-click menus for programs set to Taskbar will still be displayed and accessible.
STEALTH SETTINGS - Disable Taskbar right-click menu in Windows 7 and Windows 8
Disable the right-click menu on Taskbar in Windows 7 and Windows 8