If you get used to sharing their PC with other users, most likely prefer to disable some of Windows utilities to protect your integrity or prevent access their personal files and applications.
Manage It! is a portable application (Requires no installation) Windows operating systems allowing users to quickly disable programs your Windows and features of the, Such as Task Manager, registry Editor, Command Prompt, control Panel, Windows Hotkeys. All you have to do is to download application, To open, to tick the options you want to disable and then click on button Done or Restart Explorer.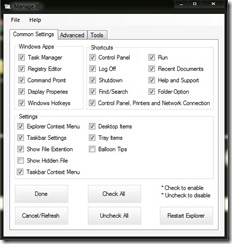 In tab Advanced you are able to change certain default settings of Windows (But be careful because it can cause problems with the system if you enter the wrong values), you can set the Windows will no longer restart after installation updates or you can change the information about the owner (owner) PC. Also, tab Tools You close or restart the computer programOr can you assign rights owner (take ownership) On application and system files.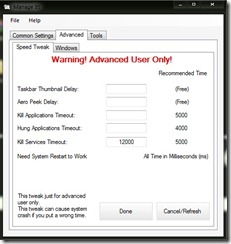 Note: The application is compatible with all versions of Windows XP, Windows Vista and Windows 7 on 32 or 64 bit.
STEALTH SETTINGS - Quickly disable Windows Features with Manage It!
Quickly Disable Windows Features to Manage It!