When you replace Antivirus program in Windows, Most times it is necessary to use a special uninstaller, Made available (in most cases) even by company producing the antivirus respectively, for some files or antivirus settings replaced to avoid causing conflicts the new virus, and the latter can not provide Optimum protection system.
If used to test various antivirus, Leading to their replacement often the simplest is to use a single application to uninstall Antivirus and Internet Security programs the system. AppRemover is such an application that allows users Windows sa completely uninstall most popular antivirus programs with just a few mouse clicks. In addition, AppRemover can be used to clean an uninstall incomplete or failed, to avoid system errorsAnd uninstall including antivirus programs are password protected.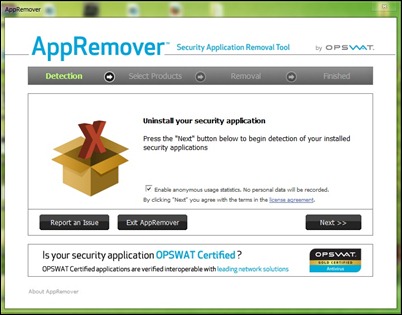 AppRemover is Free compet, does not require installation (Is application portable), And supports most existing antivirus programs currently on the market, including Avira, Avast, AVG, Bitdefender, BullGuard, ClamWin, ESET, F-Secure, GData, IObit, K7 Computing, Kaspersky, Kingsoft, Lavasoft, McAfee, Microsoft Essentials, MicroWorld, Norman, Panda, PC Tools, Quick Heal, Symantec, TrendMicro, TrustPort si Webroot. For a list of antivirus bearvisit this link.
How does AppRemover?
run the application and click the button Next
depending on the task that you want to operate the application, select Remove Security Application or Clean Up a Failed UninstallThen click on Next
if you select Remove Security Application, Expect to AppRemover scan computer to identify antivirus installed server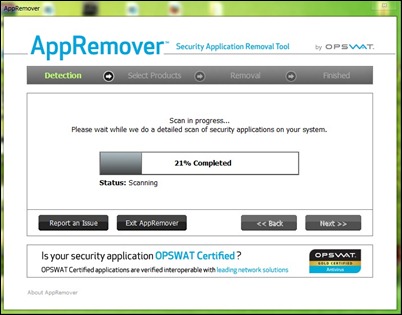 then select antivirus and click twice Next to uninstall the program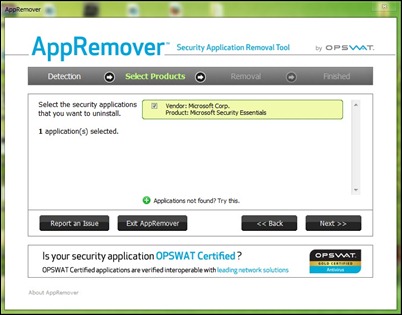 Careful! AppRemover can not uninstall Windows DefenderBecause it is part integrated into the operating system Windows.
Note: Application compatible with Windows XP, Windows Vista, Windows 7 and Windows 8 (32 or 64 bits).
STEALTH SETTINGS - Completely uninstall Antivirus and Internet Security Software with AppRemover
Completely uninstall programs Antivirus and Internet Security with AppRemover