When you want to test a preview version of a Windows, Or a different operating system than the one used every day (eg Ubuntu or Mac OSX), The safest is to use in dual boot installation. In this way, none of installed systems will not be affected, and uninstall one of them will have consequences for the other (or others).
Most users who want to uninstall an operating system from dual-boot Windows, Turning to formatting hard drive or partition on which it is installed (or just delete Windows folders, Where the same partition have and data they want to keep them), then Removes entries from the system to boot menu. But a much simpler method would be to use a third-party applications, namely NanWick Windows Uninstaller.
NanWick Windows Uninstaller is a free tool si portable (No installation required), that lets users uninstall a Windows system installed in dual-boot (Either with another version of Windows or a different operating system). Utility erase both Windows files on that drive, and its entry in the boot menu.
How does Windows Uninstaller?
usefulness computer scans to identify all versions of Windows installed him
after the systems have been identified, the user must Select the partition that is installed uninstall the version you want it
then system files of that Windows is deleted (hibernate.sys, Program Files, Windows and other files / folders from the system)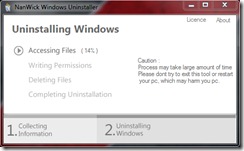 and finally is removed and entry system (Now removed) of boot menu.
Windows Uninstaller can not uninstall a Windows system if it is only installed on that computer. For example, if you Windows 7 installed in dual-boot with Windows 8, And want to uninstall Windows 7Will be Use Windows Uninstaller on Windows 8 (Or vice versa if you want to uninstall Windows 8, Use Windows Uninstaller on Windows 7).
Note: The application is compatible only with Windows operating systems (not identify other operating systems).
STEALTH SETTINGS - Uninstall Windows from dual-boot with Windows Uninstaller
Uninstall Windows in dual boot with Windows Uninstaller