When delete some data on a Hard DriveBasically just delete links by location data question, but they remain on hdd until other data is rewritten over. Also, even in cases where dam HDD formatThe data on it can still be recovered using certain applications or Links tool for recovery. If you want to completely destroy the data on a hard drive (And obviously without affecting the HDD respectively) for whatever reason, so they can not be recovered, a simple solution would be to use a third-party applications specifically to do this, such as, for example, DBAN.
DBAN (or Darik's Boot and Nuke) is a free application, Available in the form of bootable ISO image, With which users can completely eraseWithout possibility of recovery, the data stored on a hard drive.
How to use DBAN?
The image can be written on a DVD or a USB driveThen the user can DBAN boot media device to enter the application menu. Running it in boot mode causes the destruction of data to be secure and guarantees total clean of any traces of the HDD.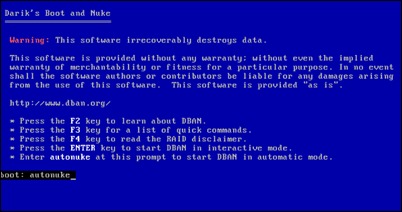 Although interface is not very user friendly, it provides options and menus to explain each operation:
key F2 offers Application info itself
key F3 displays a shortcut list (You can select Quick Erase for the destruction of data in a relatively short time, but it will not be as effective as a meticulous removal, as in option Gutmann Wipe)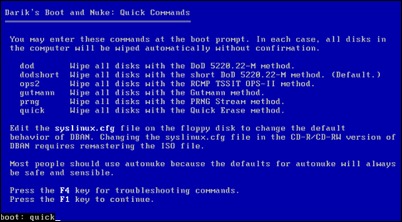 key F4 explains incompatibility with HDDs in RAID format
key Enter start the Data destruction on hard drive mode interactive (That require user intervention)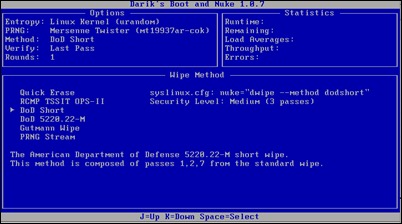 and if you want the deletion to be performed automatic The DBDN, type the command autonuke and give Enter
The application is currently in progress betaAnd, while no guarantee stability complete, since it is used for complete destruction of the damaged hard drives, Possible unpleasant consequences are unlikely.
Note: DBAN does not support RAID HDDs and does not run on computers with faulty hardware.
STEALTH SETTINGS - Completely erase your hard drive's date with DBAN
Completely destroy data on your hard-drive DBAN