Internet users today know very well how risky is to browse the Internet without the protection of a good antivirus, Installation of such software becomes almost mandatory all holders of computers (Companies or individuals).
If you recently bought a PC and do not know what antivirus you choose, or you are unhappy with the one you used to date, we recommend AVG Anti-Virus 9.0.716 (The latest version released).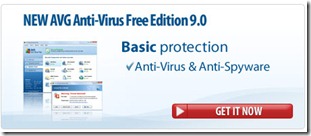 AVG Anti-Virus offers effective protection against programs malware (Virus, trojans, spyware, adware, scriptsEtc.) that have invaded the Internet, has an interface easy to understand and use, not too many resources Pope (though do not expect to not be felt at all, usually an antivirus that does not feel, look to do its job in most of the time), enjoy periodic updates to fix certain problems (vulnerabilities, combat new viruses, etc.) and, what is most important is free (personal use only one computer).
The most important features AVG Anti-Virus Free Edition 9 are:
Anti Spyware without requiring the installation of additional software (so far available only for licensed version)
online and offline protection against malware (viruses of any kind, spyware, adware, trojans, etc.).
scanner improved in order not to affect PC speed
protection against infected Web sites / virus because the new functions LinkScanner
protection to date due to regular security updates
To install AVG Free Edition 9 your system must meet the minimum requirements:
* 1.8 GHz Intel Pentium
* 550 MB hard disk space (for installation)
* 512 MB RAM
Compatible operating systems Windows 2000, Windows XP (32-bit & 64-bit) Windows Vista (32-bit & 64-bit) Windows 7 (32-bit & 64-bit).
Download AVG Anti-Virus Free Edition 9.
Note: During installation, the protection is interrupted, so it is recommended to disconnect the Internet connection.
Download AVG Anti-Virus 9.0.716 [Antivirus Free Edition]