Because there are only a few (dozen) days to Christmas, And because most of you have already entered Winter holiday spirit and have already decorated houses, trees, cats (: D), etc., we propose to adorned si computer with a wonderful Winter theme mark microsoft.
Theme is composed of 17 wallpapers superb HD resolution, Which depicts the celebration of the winter season and holidays worldwide.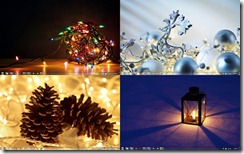 Download Holiday Lights Theme for Windows 7.
Although currently raining instead of snowing, we want everyone to have part of an beautiful winter!
Download Holiday Lights - Christmas Theme (7 Windows Themes)