Microsoft finally released Office suite for iPadAfter years of waiting days for users iOS tablets. The suite applications Word, exceand it PowepointThey are available for both read as well as edited.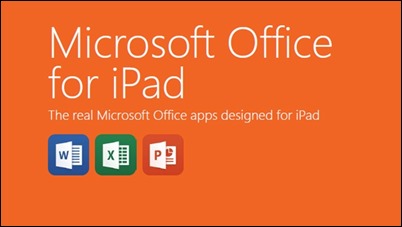 office applications for iPad are Optimized for touch and have a interface cu ribbon similar to that of versioning Windows si Poppy. They also have included more Feature Links only version iPhoneAnd operates based system Microsoft OneDrive to enable the creation and editing of files, changes the automatically saved in in cloud.
Suite Office for iPad It is available in regime freemiumIe permit applications view documents in way freeBut their editing is possible only through subscription to Office 365 (For full functionality of the suite, users must pay 99.99 $ / year, including subscription Office licenses for 5 PCs si 20 GB storage space OneDrive).
For those interested to download Office applications for iPad, Have below download links:
Microsoft PowerPoint for iPad.
STEALTH SETTINGS - Download Microsoft Office for iPad
Download Microsoft Office for iPad