for users Windows 7 who wish to experience Metro interface of Live Tiles before launching Windows 8Can do this with a freeware applications (Free), called Mosaic.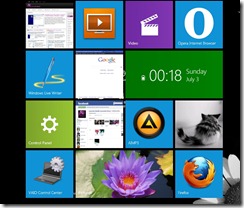 Mosaic comes with Customizable widgets liveThat can be added in menu and moved anywhere on the desktop and displaying Internet content, information from computer or links to applications.
* Note! Mosaic application is still in alpha version and may be unstable.
How does Mosaic?
to open Mosaic menu, Place the cursor in right side of the monitor and click (note that Mosaic is not compatible with dual-monitor and most likely will not open menu if you taskbarCPC right or left desktopsite)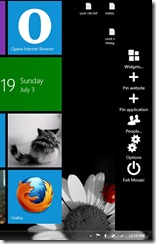 to add link to a favorite site click on Pin website the menu and to add link to an application installed on a server click on Pin Application (to delete links right click on it, then click on remove)
to add widgets (Live tiles) pe desktop click on Widgets Mosaic menu, then click on the widgets you want to see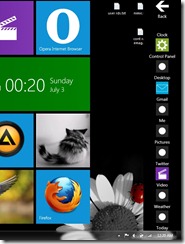 to hide widgets from desktop, Click again on the icons in the menu widgets
animation widgets si Mosaic full-screen can be disabled or enabled in Mosaic Options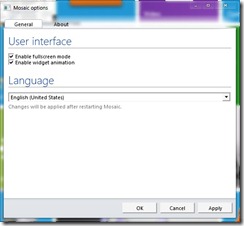 can add contacts from Facebook pe desktop clicking on People and logging into your personal account
For use Mosaic, you must have installed Microsoft. NET Framework 4.0 si Internet Explorer 9 (for HTML widgets 5).
Note: Mosaic is compatible with all versions Windows 7, on 32 or 64 bits (not compatible with XP and Vista).
Credit: Stealth2009 @ CodePlex
STEALTH SETTINGS - Download Mosaic: Metro UI with Live Tiles Windows 7 (Windows 8 Style)
Download Mosaic: Metro UI with Live Tiles for Windows 7 (Windows 8 Style)