One of the Feature Sites which should not be overlooked in Windows 8 is native support for mount ISO images si VHD. You just have to double-click on them to mount them and go directly to the Explorer.
Recently, microsoft decided to make public a known utility named Virtual CD-ROM Control Panel, Available free Windows XP, Windows Vista, Windows 7 and versions Windows Server, Which allows users to mount and access the content ISO files si VHD following the instructions that accompany the utility.
Although Virtual CD-ROM Control Panel has some years under his belt (original version was released in 2001 Operating System Windows XP and does not have support for editions 64 bit), Few users knew its existence. A week ago Microsoft decided recovery utility in an updated version, now compatible with all versions of Windows released after XP - XP including (Windows 8 not need this tool, given in support for ISO and VHD files).
Virtual Control Panel, CD-ROM comes in the form of a self-extracting archives (Self-extracting), users only need to run, and then to click on Unzip then select the folder where you want to extract its contents.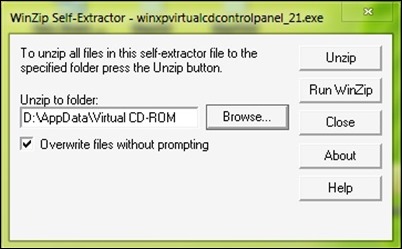 To use the application, the file VCdRom.sys have moved in system folder C: \ Windows \ System32 \ drivers (where C: \ it is partition is installed Windows). Then run VCdControlTool.exe and click on the button Driver controlThen on Install Driver. Browse by C: \ Windows \ System32 \ drivers, Select the file VCdRom.sys and click on Open. Then click on Add Drive until it is selected unused letter other drives in the system and click Mount. Navigate to the location where it is stored image you want to mount, select it and click OK. After you no longer need virtual driveYou can remove the driver from memory using the driver control.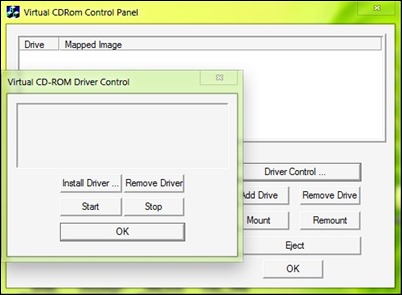 Those who want to test this utility can download using link below.
Download Virtual CD-ROM Control Panel.
Note: Microsoft does not support this utility users and recommend reading the archives readme.txt file before use.
STEALTH SETTINGS - Download Virtual CD-ROM Control Panel, free tool to mount ISO and VHD files from Microsoft
Download Virtual CD-ROM Control Panel, free tool to mount ISO and VHD images from Microsoft