After yesterday surprised the whole world by calling its next operating system Down Windows 10Today microsoft made publicly available version Technical Preview thereof. Users interested in download and to Windows test 10 Technical Preview can do this through program Windows InsiderReleased by microsoft after a few hours (you will need to register in the program with the help Microsoft account).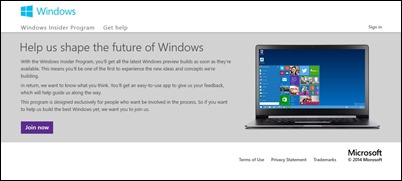 After enrolling in Windows InsiderUsers can Install Windows 10 Technical Preview using upgrade file available on the main page of the program (this is a executable the only dimension 4.6 mb), But those who want to install Preview version in dual-boot another Windows or prefer to test this release virtual BoxThey provide download links of ISO images of Windows 10 (These can be accessed by clicking on the link Get the ISO files available at the bottom, or you can download English version pe 32 si 64 bit those images using direct links displayed at the end of this article).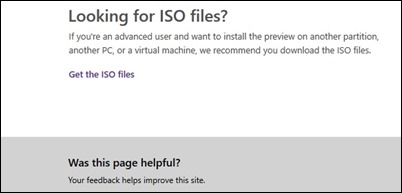 Minimum System Requirements required to install 10 Windows Technical Preview are the same as required for Windows 7 or Windows 8 (Ie you can Install Windows 10 on a computer running Windows 7 or Windows 8 without any problem):
processor minimum 1 GHz
minimum 1 GB RAM (for 32-bit) Or minimum 2 GB (64 bit)
minimum 16 GB free space disk
video card with support Microsoft DirectX 9 and driver WDDM
Microsoft account and Internet access
Users of the system Windows 7 but will first have to check if processors computers supplied supports PAE, NX and SSE2.
Download Windows 10 Technical Preview (upgrade file).
Download Windows 10 TH-en 32-bit (ISO file).
Download Windows 10 TH-en 64-bit (ISO file).
License code available for installation 10 Windows Technical Preview is: NKJFK-GPHP7-G8C3J-P6JXR-HQRJR
Important Note!
Windows executable upgrade 10 Technical Preview can not be run on Windows versions earlier than Windows 7 SP1
Windows 10 Technical Preview will expire on April 15 2015
users will install Windows 10 Technical Preview as a principal will not be able to return to the previous version of Windows used with available recovery partition on your computer's hard drive (it is very important to create recovery media device from the recovery partition before install Windows 10 Technical Preview).
those who want to install Windows 10 Technical Preview in Virtual Box, can follow instructions here.
STEALTH SETTINGS - Download Windows 10 Technical Preview
Download Windows 10 Technical Preview