Microsoft released earlier this month version Technical Preview the next operating system Windows, Windows 10. For those who haven't tested this version yet Windows, or for those who have tested it but have returned to a previous operating system (considering it is a betaWe recommend installing it using a virtualization softwareEx. VirtualBoxTo avoid possible system errors or loss of data), but who like appearance Windows 10 and want to customize the current system to resemble it, the ones from WindowsX Live have released Windows 10 Transformation Pack.
Windows 10 Transformation Pack It is a collection of applications, themes, icons si visual styles which helps users to customize a previous version Windows so that it resemble as much as possible with the new system (currently only version released Preview).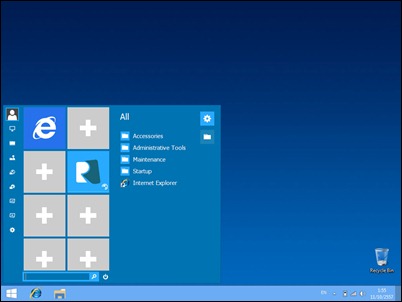 What are the main features of Windows 10 Transformation Pack?
installing si uninstalling transformation package is very simple and does not affect Operating system security;
easy to set up
modern design style Metro
original system resources from Windows 10
integration UxStyle to enable installation custom themes
compatibility Windows Update
self-repair Integrated system for files
Start Menu similar to the Windows 10 (Metro support)
desktopvirtual
colorization Aero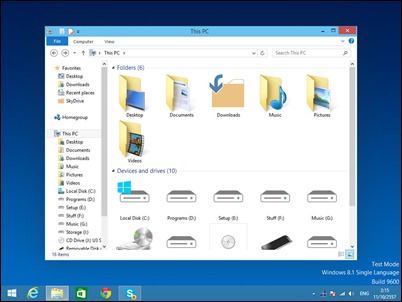 How to install it Windows 10 Transformation Pack?
Download archive containing pack of transformation, then roll executable Content of this. Before installing the package itself, it will see a Menu options which enables you customize the installation process.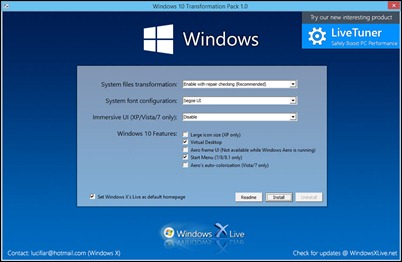 Download in English Windows 10 Transformation Pack.
Please note: Windows 10 transformation Pack is compatible with Windows XP, Windows Vista, Windows 7 and Windows 8 / 8.1 (certain UI elements contained in it but are only compatible with certain versions Windows of the ones listed).
credit @WindowsXLIV
STEALTH SETTINGS - Download Windows 10 Transformation Pack
Download in English Windows 10 Transformation Pack