On the first day of the conference BUILD 2014 held this week in San Francisco, microsoft officially submitted Windows Update 8.1 1 (This is similar to the Update Service packs available previous systems Windows), And announced that it will begin to be Available for download for users Windows 8.1 starting with 8 April.
For those who have not already informed of the need to changes brought Windows Update 8.1 1, The most important include the addition of a Power button and the one for Search in Start Screen, right-click menu (context Menu) for tile sites the Start Screen, the possibility of fix (pine) modern applications in taskbar and the ability to display the Taskbar in modern applications, and adding a title bar Button minimize si close in the upper part modern applications.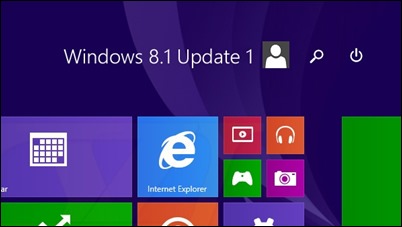 If you want to test new features of faster and it seems too much to expect yet (at least) 4 days, then we have good news for you: even if you are not TechNet Subscriber or MSDN, You can Download the update directly from the Microsoft servers. To download update filesvisit links available below.
Download Windows 8.1 Update 1 files for 32-bit:
Download Windows 8.1 Update 1 files for 64-bit:
Note: The update files must be installed exactly in the order shown above, so the system works correctly. Since Windows 8.1 Update 1 has not yet been officially launched by Microsoft (most likely to be available to users via Windows Update and Windows Store), it is recommended that before installing the available update files for the download above, a restore point of the system is made so that it can safely return to the state before installing it in the event of any errors.
LA. Update Nr. 6 (KB2949621) Is no longer available on Microsoft servers.
STEALTH SETTINGS - Download Windows Update 8.1 1
Download Windows Update 8.1 1