Win + X Menu is a menu al OS Windows 8Which lists s administrative tools thereof and which is displayed when using the key combination Windows + XOr when you get the cursor in the upper left corner of the screen and press the right click.
By default, this menu helps us we quickly access features Windows such as Programs and Features, Windows Explorer, Command Prompt (With or without Administrator rights), control Panel, disk Management, Device Manager, Run, Power Options, Search, Task Manager, System, Network Connections si Event Viewer.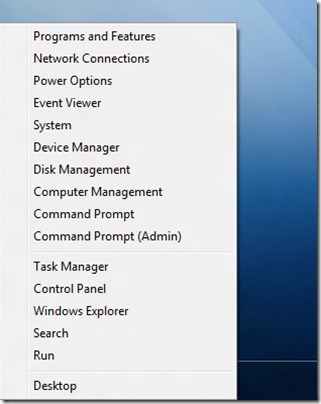 Win + X Menu Editor is a application portable with which users Windows 8 can customize menu Win + X depending on your preference, adding or deleting-items thereof, editing existing items or rearranging their order on the menu.
How to use Win + X Editor?
The application has a simple interfaceEasy to use, and does not require installation. In order to edit the Win + X menu in Windows 8 you just need to run the correct version of Win + X Menu Editor (depending on system architectureon 32 or 64 bit), Then, if we want to add a shortcut to the menu, We click on Add Shortcut, Select application shortcut that we want to add the menu, then clicked on Apply (We can add both file .exe the application, and a shortcut of it).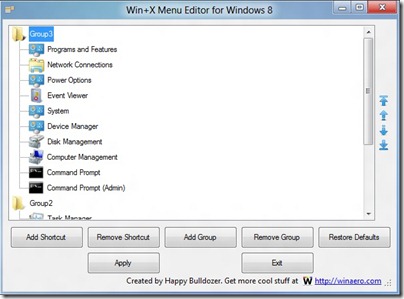 To delete a shortcut menu, Select that shortcut and clicked on the button Remove Shortcut. We can also add or delete a group that uses this software. To restore menu settings to default Win + X, Will only have to give click on the Restore Defaults.
STEALTH SETTINGS - Download Win + X Menu Editor for Windows 8
Download Win + X Menu Editor for Windows 8