users Windows which are used at a time operating system VistaEdition UltimateMost likely are familiar with DreamScene and what is this feature. But for those who have no idea what it is, DreamScene is a experimental featureAvailable as extras edition Windows Vista Ultimate and allows the user to set a Video ca background for Desktop.
Starting with Windows 7, Microsoft but abandoned this feature, although there are some methods / tools sites with which users can activate DreamScene on this operating system. Unfortunately these methods / tools and links do not work Windows 8.
How to activate DreamScene in Windows 8?
Stardock, A company specializing in the creation of Application customization for systems Windows, Offers a solution for users who want to use DreaScene on Windows 8 using the latest version of application DeskScapes.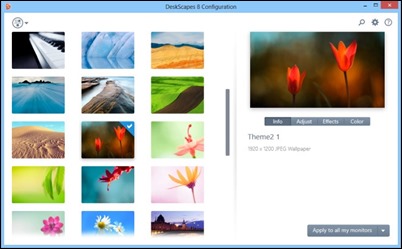 DeskScapes allows users to add special effects wallpaper or set animated photos si video files ca background for desktop. The app offers over 40 special effects background that can be added to both sites and the video camera.
By default, it comes bundled with just one DreamScene Video some dream files Animated. But users can download more backgrounds for website WinCustomize, Accessible via icon round located in the upper left corner of the application.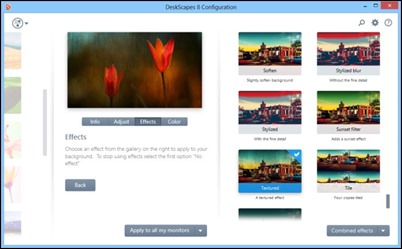 Also DeskScapes comes with a tool, named DreamMaker, Which allows users to create their own backgroud-animated or DreamScene video.
To use a file or a video live wallpaper as a background for Desktop, users must first add folder DeskScapes file containing respectively. To do this run the application and click the icon Settings available in the top right corner of it. Select tab Folders, Click the button add and navigate to the folder that contains the file you want to set as background, Select the folder and click OK. The file containing the folder will appear in the Files added in DeskScapes.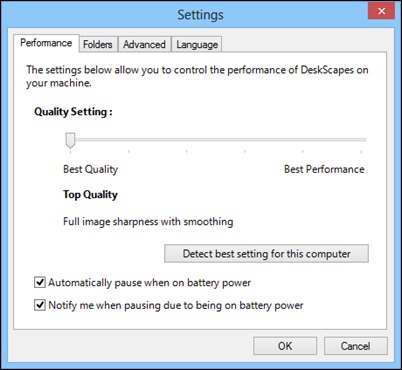 All in SettingsUsers can control application performance DeskSacpes on the operating system, a welcome option for those running Windows 8 on computers with configuration weaker. In addition, there is an option for automatic detection the most appropriate settings for the computer that runs the application.
Note: DeskScapes is paid app (it costs $ 9.99), but those who wish can test for free (although the available feature) for 30 days. To download the trial, users must enter a valid e-mail address (download link will be received in its inbox).
STEALTH SETTINGS - DreamScene and Live Wallpaper for Windows 8
DreamScene and Live Wallpaper for Windows 8