Toolbar Drawing allows, through its buttons, drawing geometric shapes. If you do not activate the toolbar Drawing you can activate by clicking on Tools – Customize, Activate the check Drawing window Toolbars.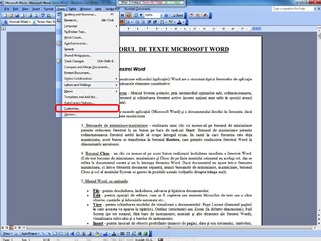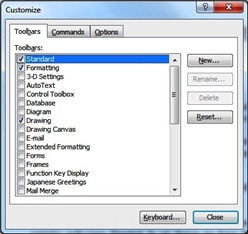 Buttons line, Arrow , Rectangle si Oval create simple geometric shapes: line, arrow, rectangle si ellipse. Button text Box allows inserting text boxes and button Insert WordArt is used for inserting objects WordArt. By selecting the AutoShapes open a menu whose vertical options available to the user tools for creating various types of lines, basic forms, arrows, Banner, stars si descriptors.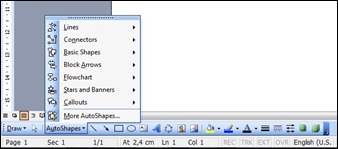 A descriptor (Callout) Consists of a text box and an indicator which may take various forms and will point to the object referenced by the descriptor. The next group of three buttons is intended to change the fill color (Fill Color), Color Line (Color line) And fonts (font Color). Size and shape of the line can be changed with the buttons line Style si Dash Style and an arrow can be modified by means of the arrow Style. Buttons Shadow si 3-D allow the application of three-dimensional shadows and effects on selected graphical objects.
Graphic objects can be positioned both above and below the text or other graphics. Thus, submenu options Draw-OrderAllow current position graphic elements beneath proximity (Send To Back) Over them (Front BringTo), Above the text (Bring in Front of Text) Or below it (Send Behind Text).

Options Group, Ungroup si Regroup the submenu Draw allow group, unbundling si regrouping several graphic objects selected (selection is made using the same cursor symbolized with an arrow mouseSite). More graphics were grouped can be used globally (moved, resized, etc.).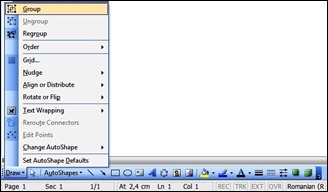 Submenu options Rotate or Flip allows horizontal mirroring (flip Horizontal) And vertical (flip Vertical) Of current graphical form and turning it to the right (Rotate Right) Or left (Rotate Left).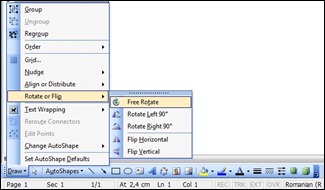 Geometric editing in Word