Every time when WinXP do what System updates/securityon Hard Drive are written data occupy the storage space from it. So sometimes it can happen to wake up with little free space pe system partitionWithout realizing what occupies the space.
When WinXP installs updates or drivers the system, the old updates are stored in a folder from C: \ Windows, named WinSxS. They are kept as backups the event that some files are corrupted and need a restoration their previous versions. But even so, some of these updates outdated will never be used again and occupies space that we can not afford to lose him.
Although microsoft they enable users to delete files folder WinSxS using Delete, They can advertisements of space occupied of these files via utility disk Cleanup.
Windows Update Cleanup is an available option in default mode Windows 8 / 8.1 Disk Cleanup Tool detected when old updates or driver versions that are no longer needed by the system. For users Windows 7 who want to use this feature to free up disk space, Microsoft has released an update, KB2852386, Which adds Windows Update Cleanup in disk Cleanup, And can be downloaded using the following links:
Download Update for Windows KB2852386 7 32-bit.
Download Update for Windows KB2852386 7 64-bit.
How can free hard disk space deleting old updates and drivers from Windows?
open utility disk Cleanup (Write cleanmgr in Start Menu or Start Screen and give Enter) Then click on the Clean up system files the bottom of the window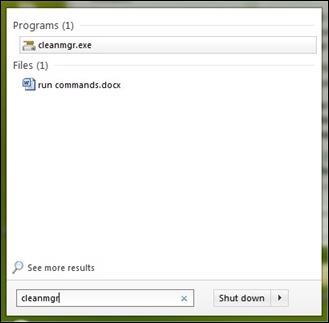 Identify and select the option Windows Update Cleanup (As I stated above, it is available only if the system identifies older updates you no longer need), then click on OK and on Delete Files for confirmation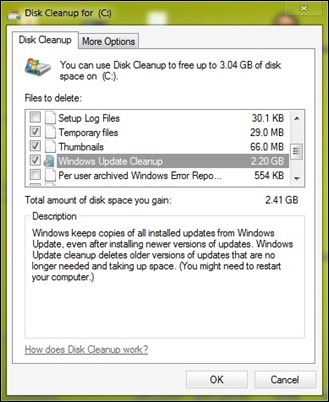 Deleting files will take several minutes, but after the process is completed, you will have at least a few MB (or even GB) extra space on hdd. Success!
Note: After installing the update KB2852386, 7 Windows users will need to restart the system that give the option to appear in Windows Update Cleanup Disk Cleanup.
STEALTH SETTINGS - Reclaim free space on your hard drive by deleting old Windows Update files
Frees space on your hard drive by deleting obsolete files Windows Update