A few days ago I needed to export contacts from microsoft Office 2010 on a phone Sony Ericsson own operating system. There was little surprise me to see that in configaratia default microsoft Office Outlook 2010 does not allow me to export all contacts simultaneously than in normal . TXT. (Select all contacts> File> Save As ...). Text that does not help me too much copy my Outlook contacts in the phone book.
If you select all contacts (Ctrl + A) of 2010 Outlook Contacts, Press Ctrl + C (Copy) and then Ctrl + V (Pate) in a folder, I could see that one export contact in.MSG.
Format . MSG is understood by most mobile phones which operating systems Windows Mobile, Symbian or AndroidBut on a mobile operating system noname (literally) we have the unpleasant surprise that format. MSG is not understood.
How can export contacts, emails, notes and agenda Microsoft Office 2010 in a format understood by mobile phone or another application.
Outlook Data Export (v1.3.0.13) is an application (add-in) for Microsoft Outlook 2007 (Compatible 2003, 2010) which helps us export data (mail, contact, appointment, task, note, journal, mobile items & RSS feeds) in Outlook formats: Unicode MSG, MSG, DOC, TXT, RTF, HTML, MHTML, OFT, CSV, XML, ICS, VCS, VCF.
How to install and use as Outlook Data Export (v1.3.0.13) in Microsoft Outlook 2010.
1. First you have to unload and to install the application.
2. Open your Outlook, go to the tab Add-InsAnd from there we click on Outlook Data Export.
3. Select from the list that opens "Outlook Data Export"What we are interested in exporting. Mails, contacts, tasks, notes or calendar.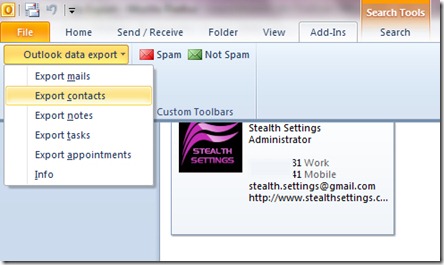 In my case, I needed to simultaneously export all contacts from Office Outlook format 2010 vCard.
4. If you choose to export contactsAfter we click on "Export contacts"Will open"Outlook Contact Export"Which allows us to export all your contacts in formats: MSG, MSG Unicode, vCard, RTF, TXT, CSV or XML.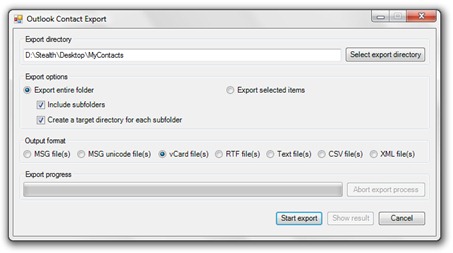 Choose a folder in which to be exported contacts, the format in which we want to make export and we click on "Start Export"
After the export completes, go to the folder in which I asked to be saved contacts to see the final result.
I used Outlook Data Export v1.3.0.13 (Version developed for Office Outlook 2007) on Microsoft Office 2010But for this version of Office there is a version of Outlook Data Export is aflta Beta release.
Outlook Data Export 2.0 Features:
* Support of Outlook 2010
* Simple export of all items
* New, simplified user interface
* Export of journal items, mobile items and RSS feeds
* 32bit and 64bit installation files
* More stable core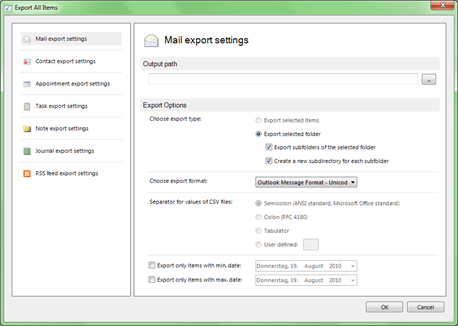 Outlook Data Export 2.0 Outlook is compatible 2007 / 2010 32 / 64bit .
Stealth Settings – Export contact, appointment, task, note, journal, mobile items & RSS feeds in Microsoft Office Outlook 2007 2010 &.
Export Contacts, Mails, Notes, Tasks & Appointments Office Outlook 2003, 2007 & 2010. Office Add-Ins