After more than two years, gave some smart tips to search GoogleTo obtain more relevant results Our quest. A "search" on Google shows us mainly websites containing keywords then ask to be made search.
If you are interested in looking documents GoogleAnd files . PDF, . DOC, . XLS, . PPT, . PS, . DWF, . KML, . KMZ, . RTF, . Swf or pictures . JPGThen we must limit mult area results. Limitation of results greatly help us when we want to look, for example, documents . XLS (Microsoft Excel Office) That contain "contract".'ll Have to" tell "search engine to look for the word" contract "and we post the results list only documents. XLS, excluding web pages and other documents.
Advanced Search is a add-on de Mozilla Firefox the change box "Google Search"Adding new features to Google search or on open sites tab-hate.
With Advanced Search, before seeking something, you have to choose where you want to search. On site opened in tabs or Internet (Google, if set default search engine).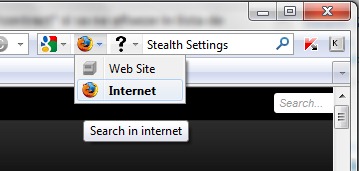 To search for documents on Google, just type keyword and select document type.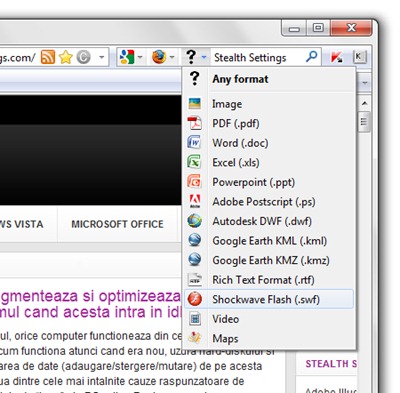 Here's an example. I searched and documents Microsoft Office WordWhich contain the words "Contract Sale".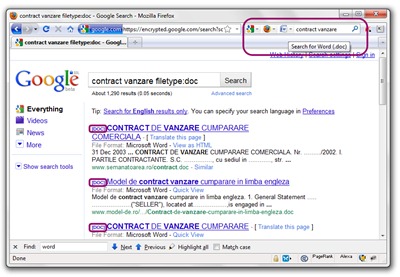 In The Google have shown only Word documents containing words "Contract sale".
The option "web Site"Cauate keywords are all on Google, but will be displayed only from open web page tab.

This is how the result for words "Windows Tips":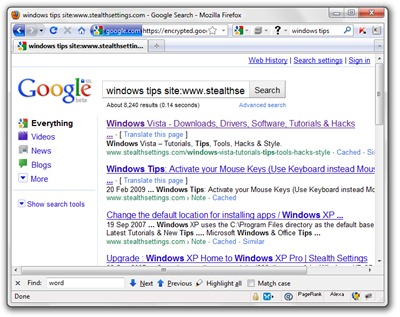 Advanced Search is a add-on very useful for those who want to lose no more time on Google looking for a relevant result.
Download in English Advanced Search Add-on.
This extension makes searches HTTPS (encrypted.google.com / SSL Beta) Giving extra safety. Establishing an SSL connection between your browser and Google searched your information can not be intercepted by a third party.
Advanced Search is an extension Mozilla FirefoxBut if you use this Internet browserYou can search for documents on Google or keywords in certain web pages indexed by Google, using Advanced Google Search Operators.
Add-on can be replaced very simple:
1. Opening address "https://encrypted.google.com"In any browser. (Opera, Firefox, Internet Explorer, Chrome, Safari, etc ...)
2. Type the keyword, put space after that "filetype: pdf"(If you want to search keyword in the file" PDF ".
Example: We search Google with the Internet Explorer, files. PDF containing the word "request".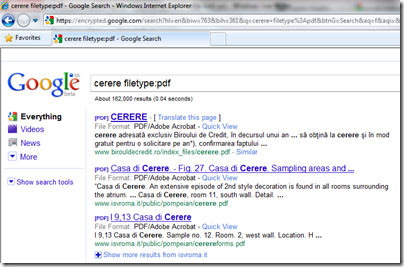 Find more syntax here.
Advanced Search was tested on Mozilla Firefox 3.6.13.
Refine search by Google Advanced Search (Firefox Add-on)