Facebook will soon add a new feature social network, namely one audio recognition, Similar to popular applications Shazam, Which by means of microphone identify mobile devices songs or TV shows and will tag-ui in updates users. If tag It is for a audio fileFriends will listen 30 seconds preview thereof, and to TV shows will view links by websites thereof.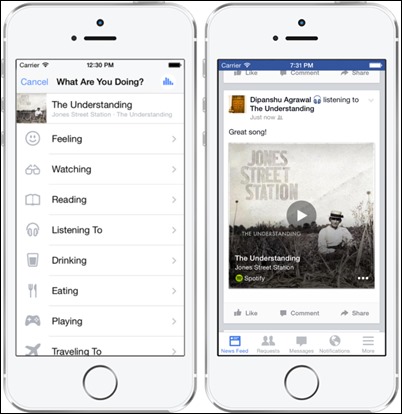 Feature site of audio recognition, named audio IDIt was developed by Facebook last year, it will be distributed to users with the following Update for mobile application (iOS si Androis) That is expected to be released in the coming weeks (at least in the US, and perhaps a little later to other regions). This, according to Facebook, is a extension the option of for sharing feelings and activities which was added last year to allow more expressive user expression that until now has been used in over 5 billion posts. After the feature's implementation audio IDUsers will share ui activities that include media files (Audio, video) or shows (TV shows, serials) will no longer need to know and manually enter their name because feature-complete will identify and automatically such information.
To benefit from this feature, users will have to it activate manual the Facebook account (it will not be enabled by DEFAult). after activating audio IDIt will be displayed as an audio level indicator icons in the field Status of Construction (Near Smiley's who allow mood or activities) and will be able to identify millions of songs (Including those run by default player al iOS or Android) and TV shows on 160 channels (TV currently broadcasts identification is possible only on the territory US). After identifying a song or a TV show, they will be displayed in the Task list where the status can be added by users.
For users who see in this new feature possible violation of privacyFacebook wanted to clarify that the Audio ID feature will not be able to identify and record conversations or other background sounds. Before activating the feature, users will be notified that sounds are used solely to identify a match audio si It will not be stored in the databases of Facebook.
STEALTH SETTINGS - Facebook gets new audio recognition feature, similar with Shazam
Facebook is enriched with a function similar to Shazam Audio Recognition