Firefox 3.0 is coming, but until the final version (release Candidate) To be released again beta (Beta 3) 3.0 Firefox.
Browser News Firefox Beta 3.0 3
- Graphics - automatically retrieves operating system features
- Simple management add-ons, extensions, themes and plugins - allows you to search and install them without the need to open the web page in the browser.
- A new type of booksmark (Smart Bookmarks) integrated toolbar. (Includes most visited bookmarks, and tags the latest)
- Improving the tabs. In the new version is allowed moving windows.
- Improved URL autocompletion algorithm
For more information and download , Visit: Mozilla official site.
Warning: many plugins / theme do not support the new version.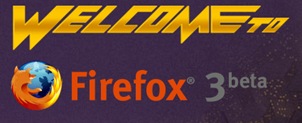 Firefox Beta 3.0 3