I looked the other day by awstat (statistics that show everything that moves on a server) And I was surprised to see that more and more users choose as browser web browsing, FirefoxCPC. For a site largely accessed by users Romania , 30% of hits via Firefox means a lot. First, as expected, is Internet Explorer cu 60.3% , who I am convinced will remain in the first place for a long time. Deh. The default browser of the operating system Windows . The statistics are from the month November 2007 / visits stealthsettings.com .
Until two years ago was fun IE and it seemed that no one will convince me to change my option. Seeing and thinking defaultIn this chapter. I was not interested in issues security si bugIE's URLs and performance navigation website He was not taken into account at the time. Until one day :)
The first thing that attracted me was Firefox tabbed browsing-hate. Option implemented much later MicrosoftWith the launch IE7.
Three reasons for using Firefox :
1. Security / Alerts (dialog that informs us when we move from a level of security to another)
2. Add-ons / Extensions nice and helpful.
3. Open Source. (Flexible sources that can be developed by anyone)
And yet … 1.250.756 K From the job title refers to a small "crash" firefox.exe pe Windows Vista Home Premium :)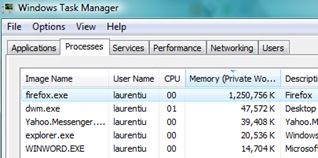 Physical Memory: 94%
firefox.exe @ 1.250.756 K