When you you buy a new laptop (or PC) without an operating system, it is very possible that hard diskits not to be formatted. During the process of installation Windows 11 you must create at least the partition on which the operating system will be installed. After completing the installation, many users face a problem. Some partitions of hard disk do not appear in This PC and are not available. Hard Disk partition not showing in Windows 11.
We take the scenario in which you have a laptop with hard disk (SSD) of 512 GB. During installation Windows 11 you have allocated 195 – 200 GB for the system partition (Windows), and with the rest of the available space on hard disk you have also created a partition of about 280 GB. The problem is that this dedicated data partition does not appear after the installation is complete Windows 11. In This PC only the partition with the operating system appears.
Fix Hard Disk partition not showing in Windows 11 This PC Volumes
Microsoft introduced in Windows 11 a very good system for management hard diskvolumes and partitions. A real Partition Manager which we did not have on the older versions of Windows.
Step 1.
Go in Windows 11 the: Settings → System → Disks & volumes.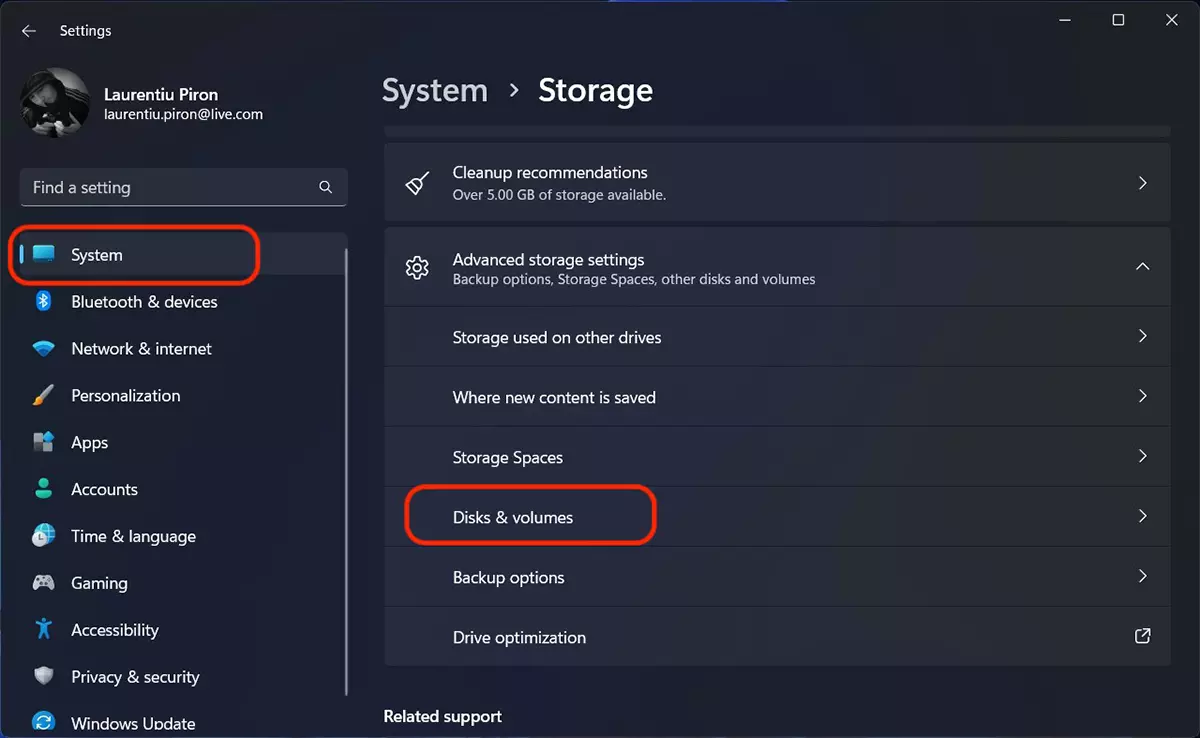 In "Disks & volumes" is the management system for hard disk (or hard disk-s) and volumes (or partitions). They appear in the upper part hard disk-s installed, following the partitions at the bottom.
PCIe-4 SSD 512GB - hard diskCPC installed on your system.
System volume – reserved by the operating system for the EFI partition (Extensible Firmware Interface)
Boot volume – the partition C: on which the operating system is installed Windows 11 and which was created during the installation process. Boot volume / Healthy.
Microsoft recovery partition – the partition created automatically during installation Windows 11 and reserved for resuscitation of the operating system.
RAW - it is not a partition and none hard disk that you didn't know about. It is the raw space of the partition that is missing and that we do not see in This PC. Hard Disk partition not showing in Windows 11. Volume Data.
Step 2.
Click on "Properties"To RAW, then click on "Change drive letter". In the dialog box that opens, assign a letter to the volume RAW. In my example I chose D: the "Change Drive Letter".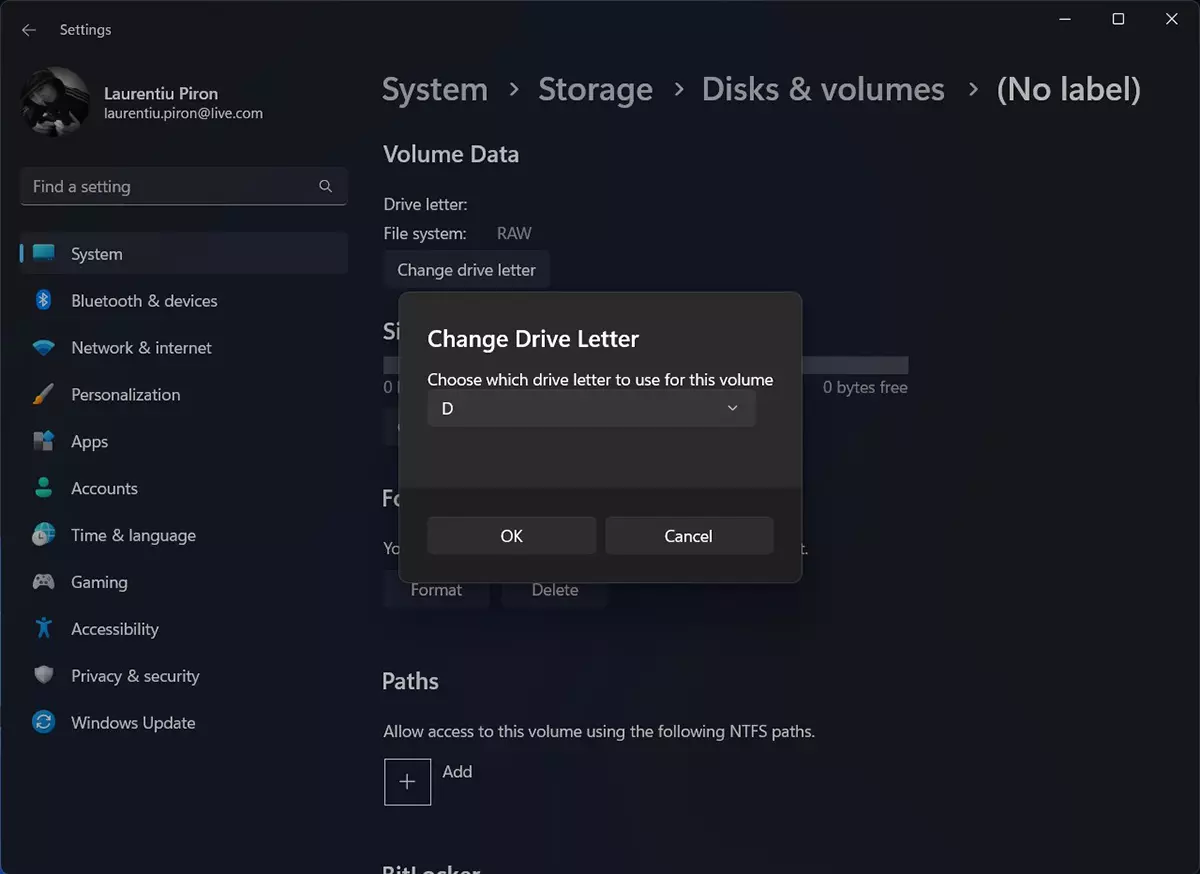 Step 3.
Click "Format".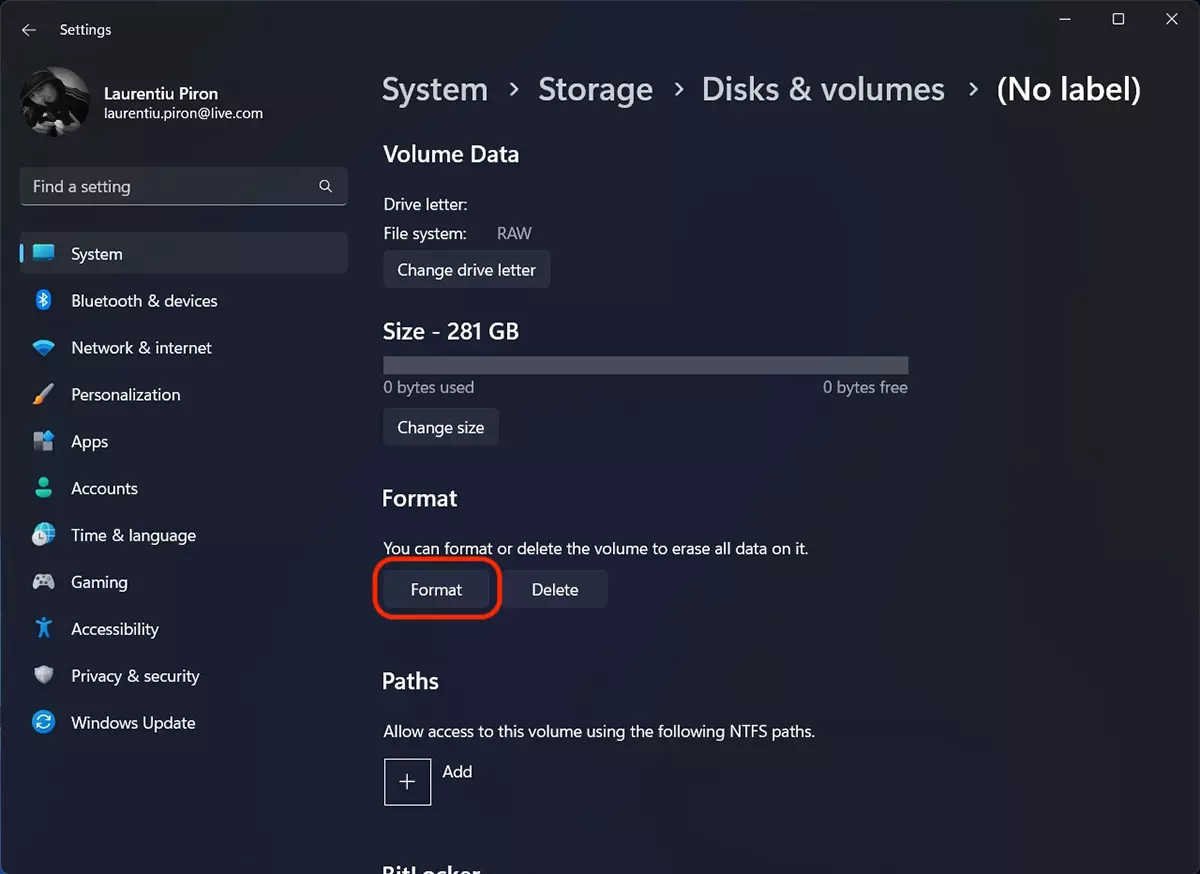 At the end of the formatting process (which shouldn't take long), the new partition will appear in This PC and you can use the available space.
In this way you can make all partitions appear hard disk in This PC. If you don't manage, leave comments.