WordPress It is one of Platforms blogging si CMS who needs no presentation. Every time launched a new version de WordPress I have not rushed to do UpdateCPC. I waited to see if there are problems with the new version, we watched compatibilities plugins and functions used, and when I decided to switch to the new version I preferred not to use the classic method update. For me "classical method'Means the update of Dashboard.
Many who have tried to update WordPress from the Dashboard (wp-admin/update-core.php) And failed, could not get rid of the message "An automated WordPress update has failed to complete - please Attempt the update again now."Or have not managed to pull the blog"Maintenance mode".

If you are one of the "lucky ones" who face this problem, the solution is simple. You must have access fTP or SSH the blog files. Go to the root directory (root) in which files and blog wipe file . Maintenance.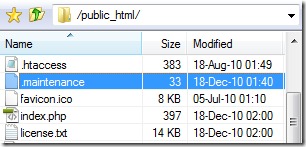 Download the archive with the version of WordPress that you want to update it and climb unzip files on FTP (upload) over the existing ones. Use fileZilla, FlashFXP or FTP which is idemana. Those who WHM /cPanel can use File Manager Upload option.
Stealth Settings - WordPress Update Error.
Fix / Remove WordPress Update Error (An automated WordPress update has failed to complete - please Attempt the update again now.)