It's been almost a year since the launch Windows 8And most users were already accustomed to The Start Screen which replaced the classic Start Menu currently Previous Windows. However, many users would like it to have some more customization optionsSuch as the possibility of fix in Start Screen files or folders for faster access to them.
Fortunately, the missing customization options Start Screen it can be added by means of third-party applications, Such as Pin to 8.
Pin to 8 is a free si portable (Requires no installation) Windows 8 that enables users of its operating system set (pine) In the Start Screen files si folders which they often use to be able to access them quickly when needed.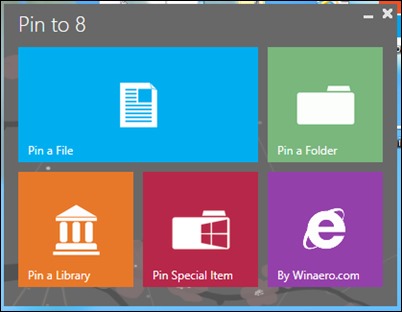 How to use Pin to 8?
Using Pin to 8 application is relatively simple, the user must select through application file or folder you wish to set the Start Screen.
The application also offers users the possibility of secure the files and / or folders in taskbar.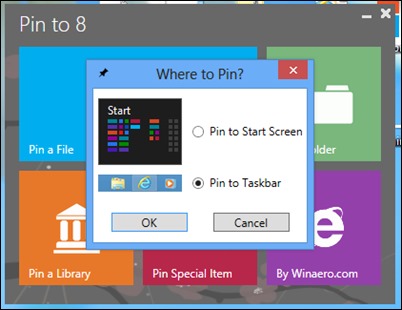 Features Pin to 8:
able to fix the Taskbar and Start Screen any file si any folder from Windows
able to fix the Start Screen / Taskbar shortcuts by the drives (partitions) of the system
able to fix the Start Screen / Taskbar Control Panel Items (Even hidden ones such as God Mode)
can start to fix the Screen / Taskbar system utilities (shell objects), Such as Run, Window Switcher etc.
able to fix the Start Screen / Taskbar any item listed above by simply drag & drop thereof in application interface
Note: App compatible with Windows 8.1.
Credit @ winaero
STEALTH SETTINGS - Pin any file or folder to Windows 8 Pin to Start Screen with 8
Fix any file in Windows Start Screen Pin to 8 8